Learn. See. Meet.
This is an emerging industry and all the key players are here. If you want to learn quickly, understand the key drivers, and know what's going to happen in the next few years, you should be here.
-- Jan Grotenbreg, Co-founder, Silicon Valley Link
Simply put...
The Embedded Vision Summit is the only event focused exclusively on the hottest topic in the electronic industry today: deployable computer vision. It's too cool to miss.
Find new ways to

create innovative products

using visual intelligence.
Gain

new insights and know-how

about computer vision enabling technologies, applications and markets.
Learn proven techniques for practical computer vision and how these enable

vision-based products

.
Hear how computer vision will

impact the business of technology

.
See demos of computer vision technology for

robotics, automotive, consumer, industrial, medical, surveillance

and more from dozens of industry-leading companies.
Meet leading technologists and industry

luminaries

.
Network with

engineers, suppliers, market analysts, investors and media

.
Watch this video to learn more about Embedded Vision Summits and hear first-hand impressions.
Need to Convince Your Boss?
Here are just a few compelling reasons why your company can't afford for you to miss the 2019 Embedded Vision Summit:
You'll find real solutions to your challenges: With more than 100 sessions across 4 tracks, you'll learn first-hand about real technical challenges and successes facing your peers today, enabling you to more easily identify what will work best for your products and services – and saving your organization time and money.
You'll meet and learn from industry luminaries: Our 1,200+ attendees, speakers, and exhibitors are at the forefront of the computer vision industry. They will not only challenge your current way of thinking but will also provide you with actionable advice you can start using immediately.
You'll make valuable connections: With the industry's leading computer vision and visual AI expertise attending the 2019 Embedded Vision Summit, you'll have the opportunity to interact directly with them and create lasting, valuable connections..
You'll understand the state of the art: With more than 60 partners and suppliers showcasing their latest products and solutions in our Vision Technology Showcase, there is no better place to stay up-to-date on what's happening the industry.
Need some help convincing your boss? Check out our Convince Your Boss letter to help you justify your attendance at the Summit!
Attending the summit is a good way to keep your fingers on the pulse of the industry and hear how companies are solving problems. It's eye opening to see how other people are using vision technology in areas outside your own frame of reference.
-- Nate Holmes, R&D Manager, National Instruments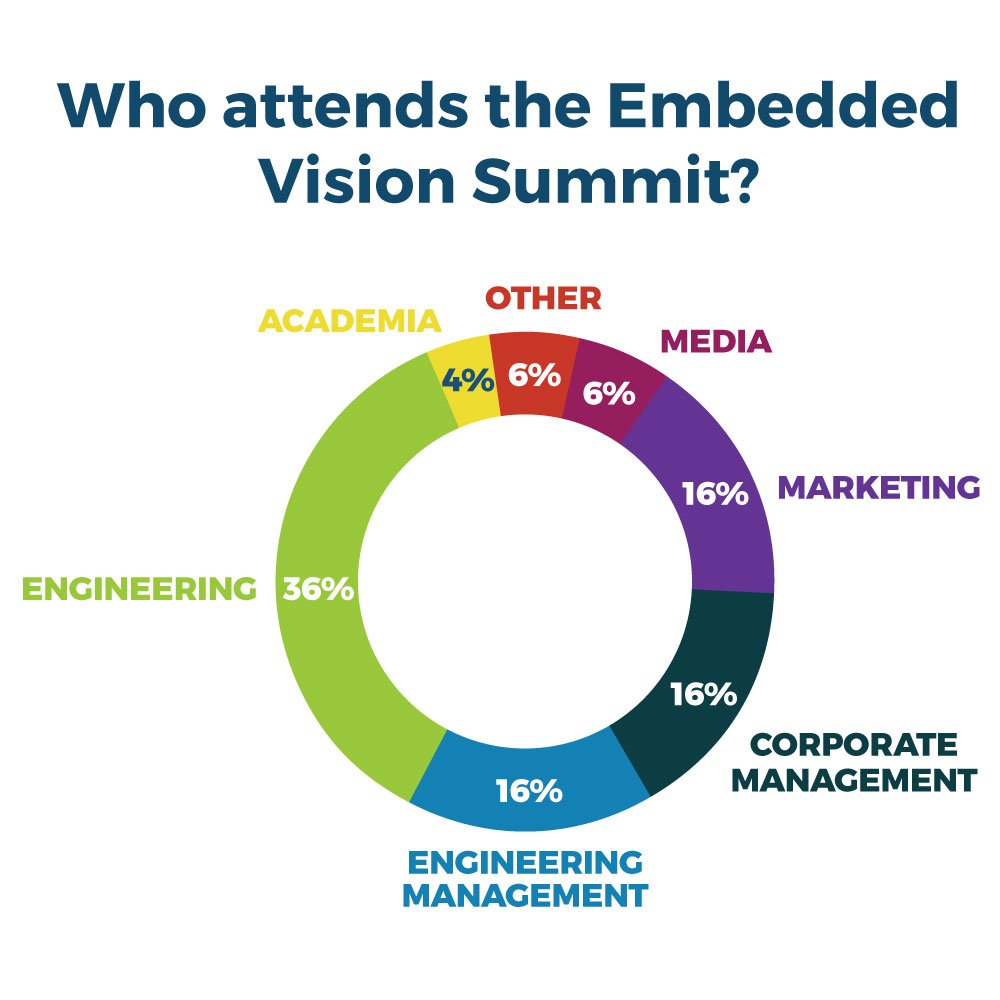 More than 1,200 engineers, executives, marketers, investors, and analysts will gather in Santa Clara, California to explore deployable computer vision technology and business opportunities in depth.
Join product creators from companies like Amazon. Alpine. Apple. Audi. Autodesk. Baidu. Bosch. Caterpillar. Cisco. Clarion. Compression Labs. Cubic. DEKA. Delphi. DirecTV. Dolby. Facebook. Fitbit. Fujitsu. Google. GoPro. Harman. Honeywell. HP. Huawei. IHI. iRobot. JDSU. Juniper. Kroger. Kyocera. Leapfrog. LG. Logitech. Microsoft. Monsanto. NEC. Northrop Grumman. Panasonic. Ricoh. Samsung. Sharp. Stryker. Tesla. Toshiba. Toyota. Volkswagen. Yotta … and the 90+ member companies of the Embedded Vision Alliance..
Embedded Vision Summit - the event for innovators who want to incorporate visual intelligence into their products.
Rub elbows and learn from industry innovators, top technologists, and smart engineers – game-changers from around the world who are designing "machines that see." Discover what other product creators are doing in their world that you can adapt into your own. Meet people from a wide industry span.
Automotive – Aerospace and Defense – Agriculture – Consumer – Entertainment – Healthcare - Industrial Manufacturing – Medical – Mobile – Retail – Robotics – Security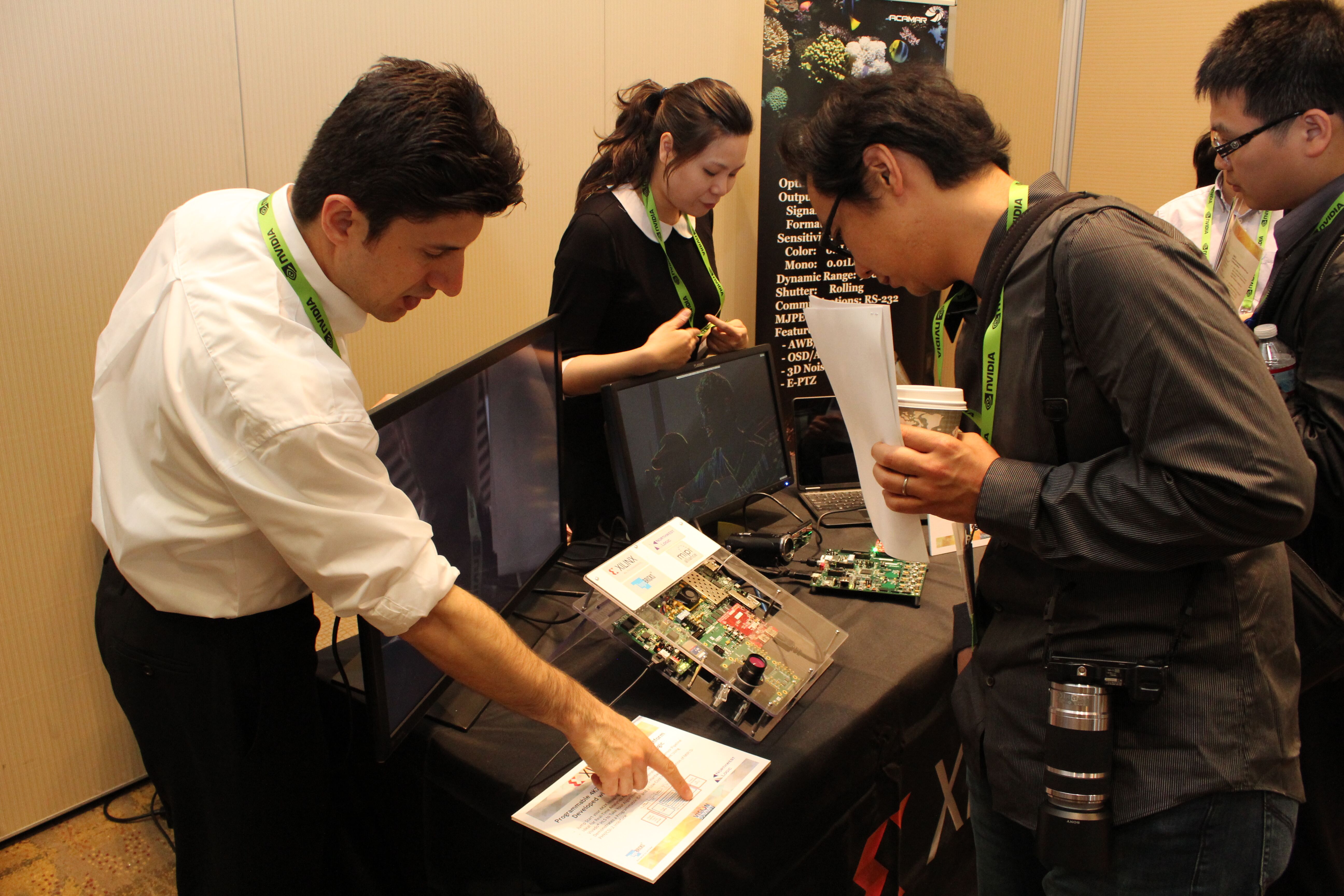 Press and Analysts Welcome
For business and technology publication editors, market researchers, and financial analysts, the Summit provides unique insights into the business and technology drivers behind the rapid proliferation of practical computer vision—"machines that see"—in virtually every category of electronic products, from automobiles to consumer electronics to health care.
See you at the Summit! May 18-21 in Santa Clara, California!