Explore Enabling Technologies in Depth
VISION TECHNOLOGY WORKSHOPS - Wednesday, May 4
Make it a full three-day event. When you register for a Vision Technology Workshop, be sure to register for the Two-day Summit Package at the same time. It's your pass to the event of the year. Inspiring keynote presentations, dozens of practical sessions that help you deploy embedded vision products, and the Vision Technology Showcase, where top suppliers are on hand with your projects in mind and the tools you need to achieve your vision.
These half- and full-day, immersive workshops are presented by experienced engineers from the sponsoring companies.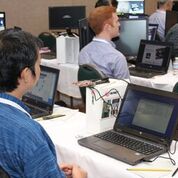 Workshop 1: Designing Low-power, Low-cost Vision Solutions Using DesignWare® EV Processors
9:00 AM - 4:00 PM
SOLD OUT - Learn how to design low-power, low-cost vision solutions for video surveillance and automotive applications using the DesignWare® Embedded Vision Processor. Read more
Workshop 2: Accelerate Your Vision Applications with OpenVX
9:00 AM - 5:00 PM
SOLD OUT - Take a deep dive into the OpenVX cross-platform, open standard for power-efficient vision acceleration. The workshop includes a tutorial on the OpenVX architecture, hands-on lab to try out real-world examples of OpenVX acceleration, and tips to deploy OpenVX in your own applications and products. Read more
See you at the Summit! May 18-21 in Santa Clara, California!