Welcome to the Xilinx Embedded Vision Portal
Xilinx All Programmable solutions for Smarter Vision put your development team at the forefront of the embedded vision revolution with the unique Zynq-7000 All Programmable SoC serving as a foundation building block. Xilinx Zynq-7000 All Programmable SoCs enable extensive system-level differentiation, integration, and flexibility through a compelling blend of software programmablility via a dual-core ARM Cortex-A9 processor, programmable hardware based on Xilinx's world-class FPGA technology, and extensive I/O programmability including optional muti-Gbps SerDes ports.
Embedded vision has become an essential requirement for an increasingly vast array of applications and markets in many industries including Aerospace, Automotive, Broadcast, Defense, Consumer, Industrial, and Medical. Xilinx's All Programmable Smarter Vision technologies enable you to pioneer next-generation of Smarter Vision systems. The inherent flexibility of Xilinx All Programmable devices allow your design team to deliver new vision-enabled products incorporating the latest vision standards, functions, and algorithms much faster than your competitors.
Xilinx has fielded a comprehensive infrastructure of tools and vision-centric SmartCORE IP to help your team get to market first with the best design incorporating the latest, most advanced vision enhancements. The Xilinx Smarter Vision design infrastructure includes the Vivado Design Suite that incorporates Vivado HLS (high-level synthesis), the Vivado IP Integrator for rapid development of proprietary IP, OpenCV (computer vision) libraries, vision-centric SmartCORE™ IP blocks, and a number of specialized vision-centric development kits.
Free Embedded Vision Training
Want to get started right away? Click on the content below to start your training immediately. For a complete list, visit our Embedded Vision Training page.
| | | |
| --- | --- | --- |
| | Cameras, along with the interfaces that connect them to the remainder of the system, are critical aspects of any computer vision design. | |
| | Nagesh Gupta of Auviz Systems delivers a technical presentation at the May 2016 Embedded Vision Summit. | |
| | Middleware libraries together with SDAccel enable software developers to program DNNs in their native C/C++ environment. | |
| | The OpenCL framework enables the development of programs that execute across programmable logic fabric and other heterogeneous processors. | |
| | Nagesh Gupta of Auviz Systems delivers a technical presentation at the May 2015 Embedded Vision Summit. | |
| | Dan Isaacs of Xilinx and Robert Chappell of EyeTech Digital Systems deliver a technical presentation at the May 2015 Embedded Vision Summit. | |
| | Cameras installed around a vehicle exterior, along with cost-effective, powerful and energy-efficient processors, deliver numerous benefits. | |
| | OpenCL enables software developers to efficiently harness diverse processing resources in embedded vision. | |
| | Signs that see and understand the actions and characteristics of individuals can deliver numerous benefits. | |
| | Xilinx and its partner Sensor to Image have created hardware, software, IP, and turn-key system solutions for the machine vision market. | |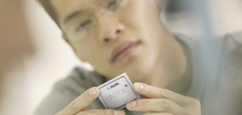 Subscribe to the Embedded Vision Insights Newsletter