About Texas Instruments
Texas Instruments is unlocking the possibility of our world as it could be by providing innovative semiconductor technologies to help our customers do more. By creating the world's most advanced electronics TI helps make our world smarter, safer, greener and more fun. Our current analog, embedded processing and wireless technologies permeate everyday life, and our future products will once again change the world.
From TI's earliest days, the company's unique technical skills have fundamentally changed markets and created entirely new ones. A constant thread throughout our history has been our use of progressively more complex real-time signal processing technology – with advances ranging from the incremental to the revolutionary – to literally and repeatedly change the world. Recently, TI became the first semiconductor company in the U.S. to open a new analog fabrication facility using 300mm technology.
TI is one of the largest semiconductor companies in the world with more than $13 billion in revenue in 2010, and our 35,000 employees provide TI a global marketplace through our operations in more than 30 countries. The Company's capital structure, size and strategic approach to the industry has allowed TI to transform our business several times since the formation of the company in 1930.
TI is committed to making a positive impact on the lives of our employees, the businesses of our customers and the future of the communities in which we operate. TI strives to reduce its impact on the environment and supports local education programs, arts and culture and community investment. We have been recognized with awards repeatedly for the culture and business we have worked hard to create.
Learn more at www.ti.com.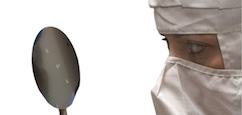 Subscribe to the Embedded Vision Insights Newsletter