"Dynamically Reconfigurable Processor Technology for Vision Processing," a Presentation from Renesas
Register or sign in to access the Embedded Vision Academy's free technical training content.
The training materials provided by the Embedded Vision Academy are offered free of charge to everyone. All we ask in return is that you register, and tell us a little about yourself so that we can understand a bit about our audience. As detailed in our Privacy Policy, we will not share your registration information, nor contact you, except with your consent.
Registration is free and takes less than one minute. Click here to register, and get full access to the Embedded Vision Academy's unique technical training content.
If you've already registered, click here to sign in.
See a sample of this page's content below:
---
Yoshio Sato, Senior Product Marketing Manager in the Industrial Business Unit at Renesas, presents the "Dynamically Reconfigurable Processor Technology for Vision Processing" tutorial at the May 2019 Embedded Vision Summit.
The Dynamically Reconfigurable Processing (DRP) block in the Arm Cortex-A9 based RZ/A2M MPU accelerates image processing algorithms with spatially pipelined, time-multiplexed, reconfigurable- hardware compute resources. This hybrid ARM/DRP architecture combines the economy, flexibility and ease-of-use of microprocessors with the high throughput and low latency of performance- optimized hardware.
DRP technology achieves silicon area efficiency by dividing large data paths into sub- blocks that can be swapped into the DRP hardware on each clock cycle to accelerate multiple complex algorithms while avoiding the cost and power penalties associated with large FPGAs. Pre-built libraries and a C-language programming environment deliver these benefits without the need for hardware design expertise. Designs can be iteratively enhanced through pre-production and even after mass-market deployment.
In this presentation, Sato examines the DRP block's architecture and operation, presents benchmarks demonstrating performance up to 20x greater than traditional CPUs and introduces resources for developing DRP-based embedded vision systems with the RZ/A2M MPU.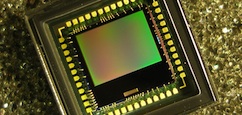 Subscribe to the Embedded Vision Insights Newsletter
For More Information