"Always-on Vision Becomes a Reality," a Presentation from Qualcomm Research
Register or sign in to access the Embedded Vision Academy's free technical training content.
The training materials provided by the Embedded Vision Academy are offered free of charge to everyone. All we ask in return is that you register, and tell us a little about yourself so that we can understand a bit about our audience. As detailed in our Privacy Policy, we will not share your registration information, nor contact you, except with your consent.
Registration is free and takes less than one minute. Click here to register, and get full access to the Embedded Vision Academy's unique technical training content.
If you've already registered, click here to sign in.
See a sample of this page's content below:
---
Evgeni Gousev, Senior Director at Qualcomm Research, presents the "Always-On Vision Becomes a Reality" tutorial at the May 2017 Embedded Vision Summit.
Intelligent devices equipped with human-like senses such as always-on touch, audio and motion detection have enabled a variety of new use cases and applications, transforming the way we interact with each other and our surroundings. While the vast majority (more than 80%) of human insight comes through the eyes, enabling always-on vision (defined as sub-1 mA current draw) for devices is challenging due to power-hungry hardware and the high complexity of inference algorithms.
Qualcomm Research has pioneered an Always-on Computer Vision Module (CVM) combining innovations in the system architecture, ultra-low power design and dedicated hardware for vision algorithms running at the "edge". With low end-to-end power consumption, a tiny form factor and low cost, the CVM can be integrated into a wide range of battery- and line-powered devices (IoT, mobile, VR/AR, automotive, etc.), performing object detection, feature recognition, change/motion detection, and other tasks. Its processor performs all computation within the module itself and outputs metadata.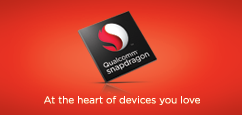 Subscribe to the Embedded Vision Insights Newsletter
For More Information