"Understanding Automotive Radar: Present and Future," a Presentation from NXP Semiconductors
Register or sign in to access the Embedded Vision Academy's free technical training content.
The training materials provided by the Embedded Vision Academy are offered free of charge to everyone. All we ask in return is that you register, and tell us a little about yourself so that we can understand a bit about our audience. As detailed in our Privacy Policy, we will not share your registration information, nor contact you, except with your consent.
Registration is free and takes less than one minute. Click here to register, and get full access to the Embedded Vision Academy's unique technical training content.
If you've already registered, click here to sign in.
See a sample of this page's content below:
---
Arunesh Roy, Radar Algorithms Architect at NXP Semiconductors, presents the "Understanding Automotive Radar: Present and Future" tutorial at the May 2018 Embedded Vision Summit.
Thanks to its proven, all-weather range detection capability, radar is increasingly used for driver assistance functions such as automatic emergency braking and adaptive cruise control. Radar is considered a crucial sensing technology for autonomous vehicles not only for its range finding ability, but also because it can be used to determine target velocity and target angle. In this tutorial, Roy introduces the basic principles of operation of a radar system, highlighting its main parameters and comparing radar with computer vision and other types of sensors typically found in ADAS and autonomous vehicles.
After examining the features and the limitations of current automotive radar systems, Roy discusses how automotive radar is evolving, particularly in light of safety performance assessment programs such as the European New Car Assessment Programme (eNCAP). He concludes with a discussion of how radar systems may compete with or complement vision-based sensors in future ADAS-equipped and autonomous vehicles.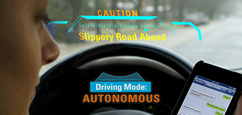 Subscribe to the Embedded Vision Insights Newsletter
For More Information