"Dataflow: Where Power Budgets Are Won and Lost," a Presentation from Movidius
Sofiane Yous, Principal Scientist in the machine intelligence group at Movidius, presents the "Dataflow: Where Power Budgets Are Won and Lost" tutorial at the May 2016 Embedded Vision Summit.
This presentation showcases stories from the front lines in the battle between power and performance in embedded vision, deep learning and computational imaging applications. First, Youse demonstrates why good dataflow is so important. Also, he shows why modern techniques and APIs are critical for fast time-to-market, and he'll summarize relevant academic work. He compares the usage models and benefits of such relevant APIs as TensorFlow and classic approaches for deep learning; standards based approaches for computer vision, and techniques such as Halide for imaging and computational photography. He also presents specific examples such as the GoogleNet implementation under Caffe/TensorFlow and other imaging/vision use cases.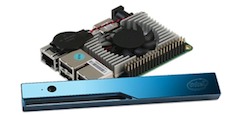 Subscribe to the Embedded Vision Insights Newsletter
For More Information