"Rethinking Deep Learning: Neural Compute Stick," a Presentation from Intel
Register or sign in to access the Embedded Vision Academy's free technical training content.
The training materials provided by the Embedded Vision Academy are offered free of charge to everyone. All we ask in return is that you register, and tell us a little about yourself so that we can understand a bit about our audience. As detailed in our Privacy Policy, we will not share your registration information, nor contact you, except with your consent.
Registration is free and takes less than one minute. Click here to register, and get full access to the Embedded Vision Academy's unique technical training content.
If you've already registered, click here to sign in.
See a sample of this page's content below:
---
Ashish Pai, Senior Director in the Neural Compute Program at Intel, presents the "Rethinking Deep Learning: Neural Compute Stick" tutorial at the May 2018 Embedded Vision Summit.
In July 2017, Intel released the Movidius Neural Compute Stick (NCS)–a first-of-its-kind USB-based device for rapid prototyping and development of inference applications at the edge. NCS is powered by the same low power, high-performance Movidius Vision Processing Unit (VPU) that can be found in millions of smart security cameras, gesture-controlled drones, industrial machine vision devices and more. Delivering significant acceleration over previous, compute-constrained platforms, the Neural Compute Stick is enabling all sorts of companies to embrace the revolution brought about by deep learning.
NCS Platform Director Ashish Pai discusses the development of this unique product and adoption of this completely new tool, and shares stories of companies–ranging from established multinational tech companies to ambitious startups–that have gone from prototyping on the Neural Compute Stick to developing full-fledged products utilizing embedded neural networks.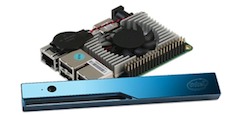 Subscribe to the Embedded Vision Insights Newsletter
For More Information