May 2019 Embedded Vision Summit Vision Tank Competition Finalist Presentations
Bo Zhu, CTO and Co-founder of BlinkAI Technologies, Dwight Linden, COO and Co-founder of Entropix, Austin Miller, Robotics Engineer at Robotic Materials, Ravi Sahu, CEO of Strayos, and Barbara Rosario, CTO and Co-founder of Vyrill, deliver their Vision Tank finalist presentations at the May 2019 Embedded Vision Summit.
The Vision Tank, a unique spin on the Shark Tank reality show, introduces companies that incorporate visual intelligence in their products in an innovative way and who are looking for investment, partnerships, technology, and customers. In a lively, engaging, and interactive format, these companies compete for awards and prizes as well as benefiting from the feedback of an expert panel of judges: Lina Karam, Professor and Computer Engineering Director at Arizona State University; Derek Meyer, former CEO of Wave Computing; Vin Ratford, Executive Director of the Embedded Vision Alliance; and John Feland, Master of Ceremonies and CEO, Argus Insights.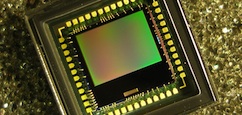 Subscribe to the Embedded Vision Insights Newsletter
For More Information