"The Coming Shift from Image Sensors to Image Sensing," a Presentation from LG
Register or sign in to access the Embedded Vision Academy's free technical training content.
The training materials provided by the Embedded Vision Academy are offered free of charge to everyone. All we ask in return is that you register, and tell us a little about yourself so that we can understand a bit about our audience. As detailed in our Privacy Policy, we will not share your registration information, nor contact you, except with your consent.
Registration is free and takes less than one minute. Click here to register, and get full access to the Embedded Vision Academy's unique technical training content.
If you've already registered, click here to sign in.
See a sample of this page's content below:
---
Paul Gallagher, Senior Director of Technology and Product Planning for LG, presents the "Coming Shift from Image Sensors to Image Sensing" tutorial at the May 2017 Embedded Vision Summit.
The image sensor space is entering the fourth disruption in its evolution. The first three disruptions primarily focused on taking "pretty pictures" for human consumption, evaluation, and storage. The coming disruption will be driven by machine vision moving into the mainstream. Smart homes, offices, cars, devices – as well as AR/MR, biometrics and crowd monitoring – all need to run image data through a processor to activate responses without human viewing. The opportunity this presents is massive, but as the growth efficiencies come into play the solutions will become specialized.
This talk highlights the opportunities that the emerging shift to image-based sensing will bring throughout the imaging and vision industry. It explores the ingredients that industry participants will need in order to capitalize on these opportunities, and why the entrenched players may not be at as great an advantage as might be expected.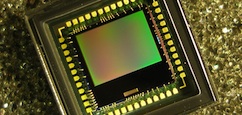 Subscribe to the Embedded Vision Insights Newsletter