Industrial Automation and Embedded Vision: A Powerful Combination
Register or sign in to access the Embedded Vision Academy's free technical training content.
The training materials provided by the Embedded Vision Academy are offered free of charge to everyone. All we ask in return is that you register, and tell us a little about yourself so that we can understand a bit about our audience. As detailed in our Privacy Policy, we will not share your registration information, nor contact you, except with your consent.
Registration is free and takes less than one minute. Click here to register, and get full access to the Embedded Vision Academy's unique technical training content.
If you've already registered, click here to sign in.
See a sample of this page's content below:
---
A version of this article was originally published at InTech Magazine. It is reprinted here with the permission of the International Society of Automation.
In order for manufacturing robots and other industrial automation systems to meaningfully interact with the objects they're assembling, as well as to deftly and safely move about in their environments, they must be able to see and understand their surroundings. Cost-effective and capable vision processors, fed by depth-discerning image sensors and running robust software algorithms, are transforming longstanding autonomous and adaptive industrial automation aspirations into reality.
By Michael Brading
Automotive and Industrial Business Unit Chief Technology Officer
Aptina Imaging
Brian Dipert
Editor-in-Chief
Embedded Vision Alliance
Tim Droz
Vice President and General Manager
SoftKinetic North America
Pedro Gelabert
Senior Member of the Technical Staff and Systems Engineer
Texas Instruments
Carlton Heard
Product Marketing Manager – Vision Hardware & Software
National Instruments
Yvonne Lin
Marketing Manager – Medical & Industrial Imaging
Xilinx
Thomas Maier
Sales & Business Development – Time-of-Flight Sensors
Bluetechnix
Manjunath Somayaji
Staff Imaging Scientist
Aptina Imaging
and Daniël Van Nieuwenhove
Chief Technical Officer
SoftKinetic
Automated systems in manufacturing line environments are capable of working more tirelessly, faster, and more exactly than do their human forebears. However, their success has traditionally been predicated on incoming parts arriving in fixed orientations and locations, thereby increasing manufacturing process complexity. Any deviation in part position and/or orientation will result in assembly failures. Humans use their eyes (along with other senses) and brains to understand and navigate through the world around them. Robots and other industrial automation systems should be able to do the same thing, leveraging camera assemblies, vision processors, and various software algorithms in order to skillfully adapt to evolving manufacturing line circumstances, as well as to extend vision processing's benefits to other areas of the supply chain, such as piece parts and finished goods inventory tracking.
Historically, such vision-augmented technology has typically only been found in a short list of complex, expensive systems. However, cost, performance and power consumption advances in digital integrated circuits are now paving the way for the...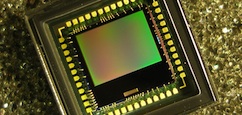 Subscribe to the Embedded Vision Insights Newsletter
For More Information