The Internet of Things That See: Opportunities, Techniques and Challenges
Register or sign in to access the Embedded Vision Academy's free technical training content.
The training materials provided by the Embedded Vision Academy are offered free of charge to everyone. All we ask in return is that you register, and tell us a little about yourself so that we can understand a bit about our audience. As detailed in our Privacy Policy, we will not share your registration information, nor contact you, except with your consent.
Registration is free and takes less than one minute. Click here to register, and get full access to the Embedded Vision Academy's unique technical training content.
If you've already registered, click here to sign in.
See a sample of this page's content below:
---
This article was originally published at the 2017 Embedded World Conference.
With the emergence of increasingly capable processors, image sensors, and algorithms, it's becoming practical to incorporate computer vision capabilities into a wide range of systems, enabling them to analyze their environments via video inputs. This article explores the opportunity for embedded vision, compares various processor and algorithm options for implementing embedded vision, and introduces an industry alliance created to help engineers incorporate vision capabilities into their designs.
Introduction
Vision technology is now enabling a wide range of products that are more intelligent and responsive than before, and thus more valuable to users. Such image perception, understanding, and decision-making processes have historically been achievable only using large, expensive, and power-hungry computers and cameras. Thus, computer vision has long been restricted to academic research and low-volume applications.
However, thanks to the emergence of increasingly capable and cost-effective processors, image sensors, memories and other semiconductor devices, along with robust algorithms, it's now practical to incorporate computer vision into a wide range of systems. The Embedded Vision Alliance uses the term "embedded vision" to refer to this growing use of practical computer vision technology in embedded systems, mobile devices, PCs, and the cloud.
Similar to the way that wireless communication has now become pervasive, embedded vision technology is poised to be widely deployed in the coming years. Advances in digital integrated circuits were critical in enabling high-speed wireless technology to evolve from exotic to mainstream. When chips got fast enough, inexpensive enough, and energy efficient enough, high-speed wireless became a mass-market technology. Today one can buy a broadband wireless modem or a router for under $50.
Similarly, advances in digital chips are now paving the way for the proliferation of embedded vision into high-volume applications. Like wireless communication, embedded vision requires lots of processing power—particularly as applications increasingly adopt high-resolution cameras and make use of multiple cameras. Providing that processing power at a cost low enough to enable mass adoption is a big challenge.
This challenge is multiplied by the fact that embedded vision applications require a high degree of programmability. In contrast to wireless applications where standards mean that, for example, baseband algorithms don't vary dramatically from one handset to another, in embedded vision applications there are great opportunities to get better...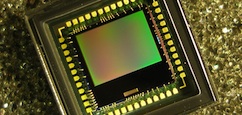 Subscribe to the Embedded Vision Insights Newsletter