Embedded Vision Insights: September 24, 2019 Edition
Register or sign in to access the Embedded Vision Academy's free technical training content.
The training materials provided by the Embedded Vision Academy are offered free of charge to everyone. All we ask in return is that you register, and tell us a little about yourself so that we can understand a bit about our audience. As detailed in our Privacy Policy, we will not share your registration information, nor contact you, except with your consent.
Registration is free and takes less than one minute. Click here to register, and get full access to the Embedded Vision Academy's unique technical training content.
If you've already registered, click here to sign in.
See a sample of this page's content below:
---
LETTER FROM THE EDITOR
Dear Colleague,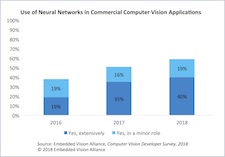 Every year the Embedded Vision Alliance surveys computer vision developers to understand what chips and tools they use to build visual AI systems. This is our sixth year conducting the survey and we want to make sure we have your input, since many technology suppliers use the survey results to guide their product roadmaps. We share the results from the Computer Vision Developer Survey at Embedded Vision Alliance events and in white papers (results from last year's survey are here) and presentations made available throughout the year on the Embedded Vision Alliance website. I'd really appreciate it if you'd take a few minutes to complete this year's survey. As a thank you, we will send you a coupon for $50 off the price of a two-day Embedded Vision Summit ticket (to be sent when registration opens in December). In addition, after completing the survey you will be entered into a drawing for one of two Amazon gift cards worth $100! Thank you in advance for your perspective. Start the survey.
Deep Learning for Computer Vision with TensorFlow 2.0 is the Embedded Vision Alliance's in-person, hands-on technical training class. The next session will take place November 1 in Fremont, California, hosted by Alliance Member company Mentor. This one-day hands-on overview will give you the critical knowledge you need to develop deep learning computer vision applications with TensorFlow. Details, including online registration, can be found here.
Are you interested in learning more about key trends driving the proliferation of visual AI? The Embedded Vision Alliance will deliver a free webinar on this topic on October 16. Jeff Bier, founder of the Alliance and co-founder and President...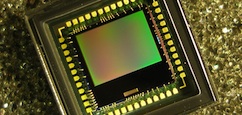 Subscribe to the Embedded Vision Insights Newsletter