Embedded Vision Insights: September 20, 2011 Edition
Register or sign in to access the Embedded Vision Academy's free technical training content.
The training materials provided by the Embedded Vision Academy are offered free of charge to everyone. All we ask in return is that you register, and tell us a little about yourself so that we can understand a bit about our audience. As detailed in our Privacy Policy, we will not share your registration information, nor contact you, except with your consent.
Registration is free and takes less than one minute. Click here to register, and get full access to the Embedded Vision Academy's unique technical training content.
If you've already registered, click here to sign in.
See a sample of this page's content below:
---
Dear Colleague,
Welcome to Embedded Vision Insights, the newsletter of the Embedded Vision Alliance.
The Embedded Vision Alliance is an industry partnership dedicated to helping engineers use embedded vision technology to design "machines that see." The Alliance currently comprises 18 companies, including leaders in semiconductors, tools, algorithms, cameras, and design services for embedded vision applications. Our web site, www.Embedded-Vision.com, is growing rapidly with video seminars, technical articles, coverage of industry news, and discussion forums.
We are excited to launch the Embedded Vision Insights newsletter to help keep the industry informed on developments related to designing machines that see. Initially the newsletter will be published on a monthly basis. Please help us get the word out by forwarding Embedded Vision Insights to colleagues who will find it valuable, and encouraging them to subscribe. Please also send us your feedback about the newsletter and how we can improve it. I look forward to hearing from you.
Jeff Bier
Founder, Embedded Vision Alliance
FEATURED VIDEOS
An Introduction to Computer Vision Using OpenCV
This video training session from Eric Gregori, BDTI Senior Software Engineer and Embedded Vision Specialist, covers some of the algorithms available in OpenCV and is intended for programmers and non-programmers alike. You can download (and install) the pre-built examples and follow along. The examples run on various Windows operating systems and require no prior programming knowledge. For advanced users, source code is also provided. Also, you can read an online article that provides even more information on these OpenCV examples.

...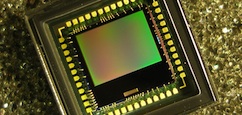 Subscribe to the Embedded Vision Insights Newsletter