Embedded Vision Insights: September 4, 2012 Edition
Register or sign in to access the Embedded Vision Academy's free technical training content.
The training materials provided by the Embedded Vision Academy are offered free of charge to everyone. All we ask in return is that you register, and tell us a little about yourself so that we can understand a bit about our audience. As detailed in our Privacy Policy, we will not share your registration information, nor contact you, except with your consent.
Registration is free and takes less than one minute. Click here to register, and get full access to the Embedded Vision Academy's unique technical training content.
If you've already registered, click here to sign in.
See a sample of this page's content below:
---
In this edition of Embedded Vision Insights:
LETTER FROM THE EDITOR
Dear Colleague,

Those of you who perused the Embedded Vision Alliance member page beginning Saturday morning may have already figured out what I'm about to tell the rest of you. I'm happy to announce two new members of the Alliance, Synopsys and VanGogh Imaging. VanGogh Imaging provides affordable and easy to use embedded vision solutions for high volume applications that can use mobile devices to accurately capture, measure, and display objects and scenes in 3D and in real time. And Synopsys' diverse product line encompasses many items with direct embedded vision relevance: embedded processor cores, high-level synthesis and other EDA toolsets, hardware and software prototyping technologies and services, etc. A just-published news writeup provides more details on Synopsys' multiple embedded vision thrusts; stay tuned for a companion writeup on VanGogh Imaging to come later this week.

The other big news is, of course, the Embedded Vision Summit, which will take place in just two weeks (and one day) in Boston, Massachusetts. I'm happy to announce that Professor Rosalind Picard of MIT, the morning keynoter, will be joined by Gary Bradski of the OpenCV Foundation, who delivered the keynote at the July Embedded Vision Alliance Member Summit and will also keynote in the afternoon at the upcoming Embedded Vision Summit. More generally, the Alliance has just published on the main event page a fairly detailed agenda,...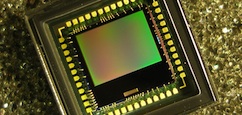 Subscribe to the Embedded Vision Insights Newsletter