Embedded Vision Insights: November 13, 2012 Edition
Register or sign in to access the Embedded Vision Academy's free technical training content.
The training materials provided by the Embedded Vision Academy are offered free of charge to everyone. All we ask in return is that you register, and tell us a little about yourself so that we can understand a bit about our audience. As detailed in our Privacy Policy, we will not share your registration information, nor contact you, except with your consent.
Registration is free and takes less than one minute. Click here to register, and get full access to the Embedded Vision Academy's unique technical training content.
If you've already registered, click here to sign in.
See a sample of this page's content below:
---
In this edition of Embedded Vision Insights:
LETTER FROM THE EDITOR
Dear Colleague,

In the previous edition of the

Embedded Vision Insights

newsletter, I indicated that we'd recently bolstered the amount of published video content sourced from the September Embedded Vision Summit to approximately six hours of cumulative material. You can now add around another hour's worth of video to that tally, with yet another clip still to come. I recently re-watched some of the content cache in the process of bolstering each video's associated description text, and it's quite outstanding both in its embedded vision topic diversity, depth and technical accuracy.

If you haven't yet perused the video content overview page on the Embedded Vision Alliance website, I encourage you to do so at your earliest convenience. We're all perpetually busy, I know, but this will be a time and attention investment well spent for your long-term education enhancement. Perhaps the upcoming Thanksgiving holiday will provide the necessary schedule "breathing room?"

Speaking of perpetually busy, the Alliance team is putting final preparations in place for next month's Embedded Vision Alliance Member Summit in Austin, Texas. Development is also already well underway for the next Embedded Vision Summit public event, currently scheduled for the week of April 22-25 in conjunction with the DESIGN West conference in San Jose, California. And nearer term, the Alliance plans to have a presence at December's Touch-Gesture-Motion conference in Austin, next January's Consumer Electronics Show in Las Vegas, Nevada,...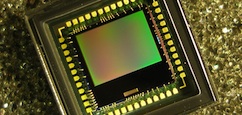 Subscribe to the Embedded Vision Insights Newsletter