Embedded Vision Insights: May 31, 2018 Edition
Register or sign in to access the Embedded Vision Academy's free technical training content.
The training materials provided by the Embedded Vision Academy are offered free of charge to everyone. All we ask in return is that you register, and tell us a little about yourself so that we can understand a bit about our audience. As detailed in our Privacy Policy, we will not share your registration information, nor contact you, except with your consent.
Registration is free and takes less than one minute. Click here to register, and get full access to the Embedded Vision Academy's unique technical training content.
If you've already registered, click here to sign in.
See a sample of this page's content below:
---
LETTER FROM THE EDITOR
Dear Colleague,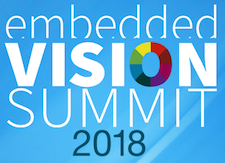 This year's Embedded Vision Summit, which took place last week, was the best yet; more than 1,000 attendees, more than 90 speakers across six presentation tracks, and more than 50 exhibitors demonstrating more than 100 vision technologies and products. A downloadable slide set of the presentations from the Summit is now available on the Embedded Vision Alliance website. Demo and presentation videos from the event will follow in the coming weeks. For timely notification of the publication of this and other new website content, subscribe to the Alliance's RSS feed and Facebook, Google+, LinkedIn company and group, and Twitter social media channels.
Special congratulations go to the winners of the premier Vision Product of the Year awards:
Best Processor: AImotive aiWare
Best Camera: Intel RealSense Depth Cameras: D415 / D435
Best Software or Algorithm: MathWorks GPU Coder
Best Automotive Solution: Algolux CANA
Best AI Technology: Morpho SoftNeuro
Best Cloud Technology: Xilinx Machine Learning Suite
Best Developer Tools: AImotive aiSim
Best End Product: 8tree dentCHECK...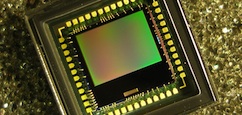 Subscribe to the Embedded Vision Insights Newsletter