Embedded Vision Insights: May 23, 2017 Edition
Register or sign in to access the Embedded Vision Academy's free technical training content.
The training materials provided by the Embedded Vision Academy are offered free of charge to everyone. All we ask in return is that you register, and tell us a little about yourself so that we can understand a bit about our audience. As detailed in our Privacy Policy, we will not share your registration information, nor contact you, except with your consent.
Registration is free and takes less than one minute. Click here to register, and get full access to the Embedded Vision Academy's unique technical training content.
If you've already registered, click here to sign in.
See a sample of this page's content below:
---
LETTER FROM THE EDITOR
Dear Colleague,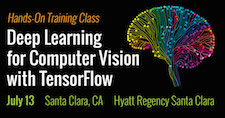 TensorFlow has become a popular framework for creating machine learning-based computer vision applications, especially for the development of deep neural networks. If you're planning to develop computer vision applications using deep learning and want to understand how to use TensorFlow to do it, then don't miss the Embedded Vision Alliance's full-day, hands-on training class in Santa Clara, California on July 13, 2017. Learn more and register at https://tensorflow.embedded-vision.com.
If Caffe is your deep learning framework of choice, check out tomorrow's (Wednesday, May 24, 10 am PT) free webinar, "Caffe to Zynq: State-of-the-Art Machine Learning Inference Performance in Less Than 5 Watts," delivered by Xilinx and organized by the Embedded Vision Alliance. It will present a method for easily migrating a CNN running in Caffe to an efficient Zynq-based embedded vision system utilizing Xilinx's new reVISION software stack. To register, see the event page.
Brian Dipert
Editor-In-Chief, Embedded Vision Alliance
DEEP LEARNING FOR VISION
...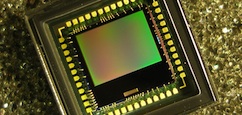 Subscribe to the Embedded Vision Insights Newsletter