Embedded Vision Insights: March 27, 2014 Edition
Register or sign in to access the Embedded Vision Academy's free technical training content.
The training materials provided by the Embedded Vision Academy are offered free of charge to everyone. All we ask in return is that you register, and tell us a little about yourself so that we can understand a bit about our audience. As detailed in our Privacy Policy, we will not share your registration information, nor contact you, except with your consent.
Registration is free and takes less than one minute. Click here to register, and get full access to the Embedded Vision Academy's unique technical training content.
If you've already registered, click here to sign in.
See a sample of this page's content below:
---
In this edition of Embedded Vision Insights:
LETTER FROM THE EDITOR
Dear Colleague,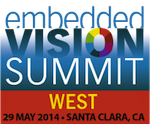 Preparations for the May 29th Embedded Vision Summit West in Santa Clara are progressing rapidly. We're pleased to announce that the Summit will feature presentations by top-rated speakers, including Francis MacDougall of Qualcomm on gesture interfaces and Simon Morris of CogniVue on recognition and classification in augmented reality. Check out the published abstracts on the Summit Presentations page. Personally, I am also looking forward to the morning keynote by Yann LeCun of Facebook and the afternoon keynote by Nathaniel Fairfield of Google.
I'm also happy to be able to tell you about two technical workshops that will take place on May 28, the day before the Summit. The first, from Alliance founding member BDTI, takes place from 9:00 AM to 3:00 PM and is entitled "Implementing Computer Vision and Embedded Vision: A Technical Introduction". It will provide a practical tutorial on processors, sensors, tools, and development techniques for vision-based application and system design, including OpenCV and OpenCL....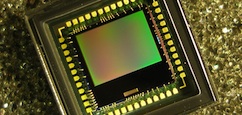 Subscribe to the Embedded Vision Insights Newsletter