Embedded Vision Insights: March 13, 2012 Edition
Register or sign in to access the Embedded Vision Academy's free technical training content.
The training materials provided by the Embedded Vision Academy are offered free of charge to everyone. All we ask in return is that you register, and tell us a little about yourself so that we can understand a bit about our audience. As detailed in our Privacy Policy, we will not share your registration information, nor contact you, except with your consent.
Registration is free and takes less than one minute. Click here to register, and get full access to the Embedded Vision Academy's unique technical training content.
If you've already registered, click here to sign in.
See a sample of this page's content below:
---
Dear Colleague,
In the previous newsletter, I told you about embedded vision-related developments coming out of the Mobile World Congress show in Barcelona, Spain. Since then, two additional notable conferences have come and gone, both including plenty of embedded vision news of their own. CeBIT took place from March 6-10 in Hannover, Germany, while the GDC (Game Developer Conference) ran in near-parallel (March 5-9) in San Francisco, California. As before, I was personally unable to attend either show, so I welcome feedback from those of you who saw any of the products I mention below first-hand (as well as on any products whose coverage I might have overlooked).
Take Tobii, for example. I've recently written about the company's eye-tracking technology on several occasions, and Embedded Vision Alliance Founder Jeff Bier got a personal demonstration at January's Consumer Electronics Show. What I didn't realize until recently is that the company doesn't just code embedded vision software algorithms; it's also a hardware developer. At CeBIT, the Tobii unveiled a next-generation eye tracking sensor module called the IS-2S which according to a company spokesperson, fits on a single board, is 75 percent smaller than its precursor, consumes 40% less power and will be "cheaper to implement" (although the company declined to provide specifics).
At the show, Tobii was demonstrating its technology on the cleverly named EyeAsteroids 3D, a pupil-controlled variant of one of my favorite childhood quarter-gobbling gaming diversions, complete with a glasses-free autostereoscopic 3D display. But Tobii wasn't the only company talking up eye-tracking implementations at the time; GazeHawk just got acquired by Facebook. The social networking giant was compelled to do the deal for the human talent it bought, but it apparently didn't have direct interest in the startup's existing products, which...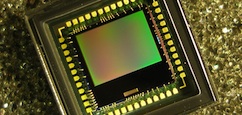 Subscribe to the Embedded Vision Insights Newsletter