Embedded Vision Insights: March 12, 2013 Edition
Register or sign in to access the Embedded Vision Academy's free technical training content.
The training materials provided by the Embedded Vision Academy are offered free of charge to everyone. All we ask in return is that you register, and tell us a little about yourself so that we can understand a bit about our audience. As detailed in our Privacy Policy, we will not share your registration information, nor contact you, except with your consent.
Registration is free and takes less than one minute. Click here to register, and get full access to the Embedded Vision Academy's unique technical training content.
If you've already registered, click here to sign in.
See a sample of this page's content below:
---
In this edition of Embedded Vision Insights:
LETTER FROM THE EDITOR
Dear Colleague,
First and foremost, I want to begin this edition of Embedded Vision Insights by alerting you to next week's (March 18-22) free five-day embedded vision webinar series co-delivered by the Embedded Vision Alliance and several of its member companies, in partnership with Design News Magazine. Entitled "Implementing Embedded Vision: Designing Systems That See & Understand Their Environments," it takes place each day at 11 AM PST/2 PM EST/6 PM GMT; I encourage you to attend the entire five-part series. Advance registration is necessary; please note that separate registration for each session is required. For more information, including registration links, please see this news writeup on the Alliance website.
Speaking of upcoming events, we're now only a bit more than a month away from the premier Silicon Valley iteration of the Embedded Vision Summit, a free day-long technical educational forum for engineers interested in incorporating visual intelligence into electronic systems and software. I've begun filling in the day's agenda with specific presentation titles, presenter biographies and (coming soon) presentation abstracts. I again encourage you to reserve the day on your calendar and submit an online registration application now, while attendance spots are still available.
And if you look closely at the Embedded Vision Summit agenda, you might notice at least one presenting company that's a surprise. You're certainly...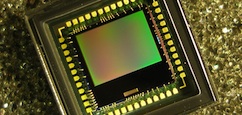 Subscribe to the Embedded Vision Insights Newsletter