Embedded Vision Insights: March 1, 2012 Edition
Register or sign in to access the Embedded Vision Academy's free technical training content.
The training materials provided by the Embedded Vision Academy are offered free of charge to everyone. All we ask in return is that you register, and tell us a little about yourself so that we can understand a bit about our audience. As detailed in our Privacy Policy, we will not share your registration information, nor contact you, except with your consent.
Registration is free and takes less than one minute. Click here to register, and get full access to the Embedded Vision Academy's unique technical training content.
If you've already registered, click here to sign in.
See a sample of this page's content below:
---
Dear Colleague,
As I write these words, the Mobile World Congress show is underway in Barcelona, Spain. At this yearly event, one of the most important cellular communications conferences, mobile handset and tablet manufacturers and their service provider partners reveal their latest and greatest offerings. And alongside them are the silicon and software providers, unveiling next-generation system building blocks which they hope will show up in handsets and tablets at next year's MWC.
One of the biggest announcements coming out of this year's show, at least so far, is Nokia's model 808 PureView phone. I've written many times in recent months about the potential for cameraphones to render standalone cameras obsolete, as well as about the notable embedded vision development potential implied in the burgeoning still and video image capture capabilities of mobile electronics devices. Although the Nokia 808 will probably not sell in large quantities, due both to its fairly high price point (450 Euros, roughly $600 USD) and its archaic Symbian operating system foundation, it's a leading-edge case study of where mainstream handsets will likely be in short order.
The Nokia 808 contains a 41 Mpixel image sensor (no, that's not a typo), notable not only for its high resolution but also for its relatively relaxed 1.4 um pixel pitch, the latter translating into larger-than-otherwise silicon die size and cost but also to better-than-otherwise low-light performance. Equally compelling to me is Nokia's motivation for going with such a robust image capture foundation. The company had unsuccessfully tried for many years to implement robust optical zoom capabilities into its cameraphone designs, and decided this time around to take a different tack.
The largest resolution still images that the Nokia 808 can capture are 38 Mpixels (7,152x5,368 pixels) in 4:3 aspect ratio mode, and 34 Mpixels (7,728x4,354 pixels) in 16:9 aspect ratio mode. Alternatively, the PureView algorithms combine multiple pixels' data together in creating lower-resolution 8 Mpixel, 5 Mpixel or 3 Mpixel photographs. The resultant oversampling not only improves the per-pixel light...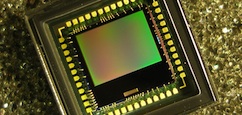 Subscribe to the Embedded Vision Insights Newsletter