Embedded Vision Insights: June 18, 2019 Edition
Register or sign in to access the Embedded Vision Academy's free technical training content.
The training materials provided by the Embedded Vision Academy are offered free of charge to everyone. All we ask in return is that you register, and tell us a little about yourself so that we can understand a bit about our audience. As detailed in our Privacy Policy, we will not share your registration information, nor contact you, except with your consent.
Registration is free and takes less than one minute. Click here to register, and get full access to the Embedded Vision Academy's unique technical training content.
If you've already registered, click here to sign in.
See a sample of this page's content below:
---
RESOURCE-CONSTRAINED DEEP LEARNING IMPLEMENTATIONS
Deep Learning on Arm Cortex-M Microcontrollers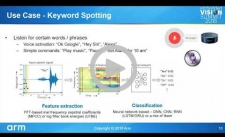 Deep learning algorithms are gaining popularity in IoT edge devices due to their human-level accuracy in many tasks, such as image classification and speech recognition. As a result, there is increasing interest in deploying neural networks (NNs) on the types of low-power processors found in always-on systems, such as those based on Arm Cortex-M microcontrollers. In this talk, Vikas Chandra, Senior Principal Engineer and Director of Machine Learning at Arm, introduces the challenges of deploying neural networks on microcontrollers with limited memory and compute resources and power budgets. He introduces CMSIS-NN, a library of optimized software kernels to enable deployment of neural networks on Cortex-M cores. He also presents techniques for NN algorithm exploration to develop lightweight models suitable for resource constrained systems, using image classification as an example.
Neural Network Compiler: Enabling Rapid Deployment of DNNs on Low-Cost, Low-Power Processors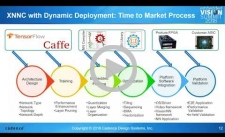 The use of deep neural networks (DNNs) has accelerated in recent years, with DNNs making their way into...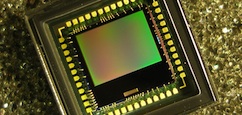 Subscribe to the Embedded Vision Insights Newsletter