Embedded Vision Insights: June 3, 2014 Edition
Register or sign in to access the Embedded Vision Academy's free technical training content.
The training materials provided by the Embedded Vision Academy are offered free of charge to everyone. All we ask in return is that you register, and tell us a little about yourself so that we can understand a bit about our audience. As detailed in our Privacy Policy, we will not share your registration information, nor contact you, except with your consent.
Registration is free and takes less than one minute. Click here to register, and get full access to the Embedded Vision Academy's unique technical training content.
If you've already registered, click here to sign in.
See a sample of this page's content below:
---
In this edition of Embedded Vision Insights:
LETTER FROM THE EDITOR
Dear Colleague,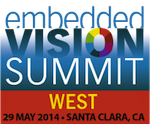 Last Thursday's Embedded Vision Summit West was an absolutely amazing day. The keynotes from Yann LeCun of Facebook and Nathaniel Fairfield of Google provided compelling insights into the future of vision-enabled recognition and autonomy. The sixteen technical presentations from Alliance member companies and partners supplied an abundance of know-how on a diversity of vision processing topics. And in the technology showcase, more than twenty member companies and partners delivered demonstrations of vision technologies and products.
Whether or not you were present in person, visit the Embedded Vision Academy area of the Alliance website, where you can now download the Summit presentation slides. In the coming weeks, they'll be joined by videos of the presentations and demonstrations. Sign up for the Alliance's Facebook, LinkedIn and Twitter social media channels, along with its RSS feed, and you'll receive proactive notification each time a new piece of content appears.
And of course, while you're up on the Alliance website, make sure you also check out all of the other great new content regularly published there. Thanks as always for your support of the Embedded Vision Alliance, and for your interest in and contributions to embedded vision technologies...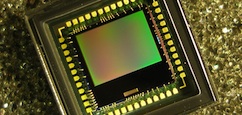 Subscribe to the Embedded Vision Insights Newsletter