Embedded Vision Insights: July 23, 2013 Edition
Register or sign in to access the Embedded Vision Academy's free technical training content.
The training materials provided by the Embedded Vision Academy are offered free of charge to everyone. All we ask in return is that you register, and tell us a little about yourself so that we can understand a bit about our audience. As detailed in our Privacy Policy, we will not share your registration information, nor contact you, except with your consent.
Registration is free and takes less than one minute. Click here to register, and get full access to the Embedded Vision Academy's unique technical training content.
If you've already registered, click here to sign in.
See a sample of this page's content below:
---
In this edition of Embedded Vision Insights:
LETTER FROM THE EDITOR
Dear Colleague,
Last Wednesday's Embedded Vision Alliance Member Meeting, held in San Jose, California at Aptina's headquarters, was as always a great opportunity for member company representatives to reconnect, network and advance the common embedded vision cause. Three of the presentations delivered that day are currently being edited for near-future publication on the Alliance website: the keynote on high-speed vision from Professor Masatoshi Ishikawa of Tokyo University (whose pioneering work I covered in a news writeup last year), the market trends presentation on consumer reactions to vision technology from John Feland of Argus Insights, and the image sensor technology trends presentation from Aptina's Curtis Stith. Subscribe to the Alliance's LinkedIn, Twitter and Facebook social media channels, along with its RSS feed, for notification when the videos show up on the site.
One of the many pieces of good news that we were able to share with the membership last week was the addition of a new member company. Sony is a name doubtlessly familiar to most if not all of you; the company makes a range of still and video image capture systems, from dedicated cameras to smartphones and other devices. What fewer of you may also realize, however, is that the company's semiconductor division is also a leading supplier of camera components, such as image sensors and processors. Welcome, Sony, to the Embedded Vision Alliance! Several other members-to-be are in the process of wrapping up their membership paperwork; when they...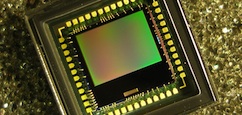 Subscribe to the Embedded Vision Insights Newsletter