Embedded Vision Insights: February 26, 2013 Edition
Register or sign in to access the Embedded Vision Academy's free technical training content.
The training materials provided by the Embedded Vision Academy are offered free of charge to everyone. All we ask in return is that you register, and tell us a little about yourself so that we can understand a bit about our audience. As detailed in our Privacy Policy, we will not share your registration information, nor contact you, except with your consent.
Registration is free and takes less than one minute. Click here to register, and get full access to the Embedded Vision Academy's unique technical training content.
If you've already registered, click here to sign in.
See a sample of this page's content below:
---
In this edition of Embedded Vision Insights:
LETTER FROM THE EDITOR
Dear Colleague,
I began the previous edition of Embedded Vision Insights with the words, "I'm pleased when I'm able to regularly pass along announcements about new Embedded Vision Alliance members, and lately I've been pretty pleased." In that particular edition, for example, I mentioned that GEO Semiconductor had just joined the Alliance. Two weeks earlier, I'd told you about the then-latest member, Tensilica.
Well, I'm thankfully still feeling pleased! This time, in fact, I have the pleasure of telling you about two new Alliance members. FireFly DSP is a developer of processor IP cores and associated software development tools, whose management team has a substantive semiconductor and software lineage. And SoftKinetic is a name that may already be familiar to some of you via its partnerships with Alliance members such as Intel and Texas Instruments; the company develops time-of-flight sensors for 3-D camera designs. Welcome, FireFly DSP and SoftKinetic!!
The Alliance is also less than two months away from presenting the premier Silicon Valley iteration of the...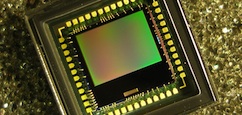 Subscribe to the Embedded Vision Insights Newsletter