Embedded Vision Insights: February 25, 2014 Edition
Register or sign in to access the Embedded Vision Academy's free technical training content.
The training materials provided by the Embedded Vision Academy are offered free of charge to everyone. All we ask in return is that you register, and tell us a little about yourself so that we can understand a bit about our audience. As detailed in our Privacy Policy, we will not share your registration information, nor contact you, except with your consent.
Registration is free and takes less than one minute. Click here to register, and get full access to the Embedded Vision Academy's unique technical training content.
If you've already registered, click here to sign in.
See a sample of this page's content below:
---
In this edition of Embedded Vision Insights:
LETTER FROM THE EDITOR
Dear Colleague,
In the February 11 edition of this newsletter, I told you about the morning keynote presentation planned for the May 29 Embedded Vision Summit West, by Yann LeCun, Director of AI Research at Facebook and a distinguished professor at New York University. I now have the pleasure of telling you about the event's afternoon keynote presentation. It's by Nathaniel Fairfield, the technical lead on Google's self-driving car team, which you can learn more about by watching the "Self Driving Car Test: Steve Mahan" video on YouTube. LeCun and Fairfield's presentations will respectively address the two foundation themes of the Summit, recognition and autonomy.
The Embedded Vision Summit West, a technical educational forum for engineers interested in incorporating visual intelligence into electronic systems and software, will take place in Santa Clara, California. The "Early Bird" reduced registration fee of $149 is only available through this Friday, so don't delay in registering. This year's Summit is co-located with the Augmented World Expo (AWE), and Embedded Vision Summit attendees may obtain an AWE Exhibits-Only Pass for only $20, an 80% discount. Just add the AWE Exhibits-Only Pass to your online registration submission...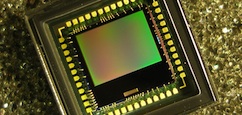 Subscribe to the Embedded Vision Insights Newsletter