Embedded Vision Insights: February 16, 2012 Edition
Register or sign in to access the Embedded Vision Academy's free technical training content.
The training materials provided by the Embedded Vision Academy are offered free of charge to everyone. All we ask in return is that you register, and tell us a little about yourself so that we can understand a bit about our audience. As detailed in our Privacy Policy, we will not share your registration information, nor contact you, except with your consent.
Registration is free and takes less than one minute. Click here to register, and get full access to the Embedded Vision Academy's unique technical training content.
If you've already registered, click here to sign in.
See a sample of this page's content below:
---
Dear Colleague,
Shortly after declaring bankruptcy on January 19th, longstanding photography pioneer Eastman Kodak announced last week that it was winding down its digital imaging product line this year, focusing going forward on patent licenses, printers, enterprise services, photo labs and (ironically) disposable silver halide film-based cameras. Yet, as anyone who uses online services such as Facebook, Flickr, Instagram, Picasa and YouTube already knows, still and video photography is more popular than ever. So what happened? To some degree, Kodak's digital debacle, in spite of debuting the technology nearly 40 years ago, was the result of unwillingness to turn its back on its silver halide heritage and fully embrace the digital future.
But Kodak's not the only company having problems; traditional competitors such as Canon and Sony are also struggling. That's because standalone cameras have largely fallen out of favor in recent years, with the increasingly capable imaging subsystems integrated within cellphones, tablet computers and other multi-function devices as the heirs apparent and ascendant. This evolutionary transition is good news for embedded vision developers. As I've written about on numerous occasions in recent months, cellphones and tablets are open systems that represent fruitful development ground for independent developers. Whether the application involves health care, security, automotive driver assistance, a gesture-augmented user interface or any of the countless other implementations that have emerged, they wouldn't have been possible in the comparatively closed-system camera past.
In other news, as I first mentioned in an Embedded Vision Insights newsletter edition published shortly after the December 2011 Embedded Vision Alliance Summit, EVA member Texas Instruments (TI) has upgraded its membership to the premier Platinum tier. According to Niels Anderskouv, vice president, Digital Signal Processing...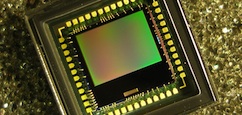 Subscribe to the Embedded Vision Insights Newsletter