Embedded Vision Insights: December 20, 2011 Edition
Register or sign in to access the Embedded Vision Academy's free technical training content.
The training materials provided by the Embedded Vision Academy are offered free of charge to everyone. All we ask in return is that you register, and tell us a little about yourself so that we can understand a bit about our audience. As detailed in our Privacy Policy, we will not share your registration information, nor contact you, except with your consent.
Registration is free and takes less than one minute. Click here to register, and get full access to the Embedded Vision Academy's unique technical training content.
If you've already registered, click here to sign in.
See a sample of this page's content below:
---
Dear Colleague,
Welcome to the fourth edition of Embedded Vision Insights, the newsletter of the Embedded Vision Alliance.
This past month has been a productive one for the Embedded Vision Alliance. In early December, the Alliance launched the Embedded Vision Academy, a free online training facility for embedded vision product developers. The Academy incorporates training videos, technical interviews, demonstrations, downloadable code and demos, and other developer resources. Access is free to all, with registration. The Academy makes it possible for engineers worldwide to gain the skills needed for embedded vision product development. I encourage you to check out the wealth of Academy content, which will steadily increase over time, at your earliest convenience.
Two weeks ago, the Alliance held its second quarterly Summit meeting for member companies, following up September's premier Summit. This well-attended event in Dallas, TX was sponsored by Texas Instruments, who generously provided not only facilities but also an enthusiastically received technical session on the BeagleBoard evaluation module series and its applicability to embedded vision applications. At the December Summit, Texas Instruments also announced that it will be upgrading its Alliance membership to the Platinum level, demonstrating the company's commitment to the Embedded Vision Alliance's mission of inspiring and empowering design engineers to create machines that see.
Speaking of enthusiastic receptions, Nik Gagvani from Cernium provided the mid-day keynote address. Nik and his team developed the Archerfish Solo, the first low-cost smart surveillance camera for consumer use. Nik shared his insightful perspective on the challenges faced by embedded vision system designers, and what these system designers need most from their suppliers. Stay tuned for Nik's video-recorded interview with me, along with an article about his keynote and a copy of his foil set, all to appear soon on the website and in next month's edition of Embedded Vision Insights for all registered website users.
Also in attendance at the December Summit...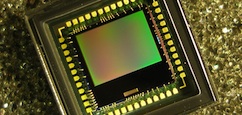 Subscribe to the Embedded Vision Insights Newsletter