Embedded Vision Insights: December 18, 2013 Edition
Register or sign in to access the Embedded Vision Academy's free technical training content.
The training materials provided by the Embedded Vision Academy are offered free of charge to everyone. All we ask in return is that you register, and tell us a little about yourself so that we can understand a bit about our audience. As detailed in our Privacy Policy, we will not share your registration information, nor contact you, except with your consent.
Registration is free and takes less than one minute. Click here to register, and get full access to the Embedded Vision Academy's unique technical training content.
If you've already registered, click here to sign in.
See a sample of this page's content below:
---
In this edition of Embedded Vision Insights:
LETTER FROM THE EDITOR
Dear Colleague,
"Never put off till tomorrow what you can do today." This well-known quote provides the background for my first important announcement. May 29, 2014 is the currently scheduled date for the next Embedded Vision Summit, a technical educational forum for engineers interested in incorporating visual intelligence into electronic systems and software, to be held in Santa Clara, California. The end of May may seem a long way away, but we're busily preparing to make the upcoming Embedded Vision Summit West the biggest and best Summit yet!
The Embedded Vision Summit West will be co-located with the Augmented World Expo, and Summit attendees will have the option of also attending the full Augmented World Expo conference or accessing the Augmented World Expo exhibit floor at a discounted price. And preceding the Embedded Vision Summit, on Wednesday, May 28, 2014, Embedded Vision Alliance member companies will present partial- and full-day workshops exploring hardware and software for various embedded vision implementations. Please revisit the event overview page in the coming weeks for more information, such as detailed agendas, keynote, technical tutorial and other presentation details, speaker biographies, and online registration.
Speaking of the Embedded Vision Summit, the steady flow of content coming from October's event in Westford, Massachusetts continues to appear on the Alliance website. Since the publication of the previous newsletter edition, several new demo videos (from...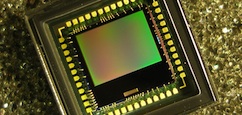 Subscribe to the Embedded Vision Insights Newsletter