Embedded Vision Insights: August 29, 2017 Edition
Register or sign in to access the Embedded Vision Academy's free technical training content.
The training materials provided by the Embedded Vision Academy are offered free of charge to everyone. All we ask in return is that you register, and tell us a little about yourself so that we can understand a bit about our audience. As detailed in our Privacy Policy, we will not share your registration information, nor contact you, except with your consent.
Registration is free and takes less than one minute. Click here to register, and get full access to the Embedded Vision Academy's unique technical training content.
If you've already registered, click here to sign in.
See a sample of this page's content below:
---
LETTER FROM THE EDITOR
Dear Colleague,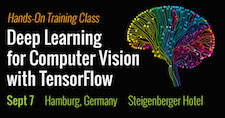 TensorFlow has become a popular framework for creating machine learning-based computer vision applications, especially for the development of deep neural networks (DNNs). If you're planning to develop computer vision applications using deep learning and want to understand how to use TensorFlow to do it, then don't miss an upcoming full-day, hands-on training class organized by the Embedded Vision Alliance: Deep Learning for Computer Vision with TensorFlow. It takes place in Hamburg, Germany next week, on September 7. Learn more and register at https://tensorflow.embedded-vision.com.
Also consider attending the Alliance's upcoming free webinar "Efficient Processing for Deep Learning: Challenges and Opportunities," on September 28 at 10 am Pacific Time. DNN algorithms are very computationally demanding. To enable DNNs to be used in practical applications, it's therefore critical to find efficient ways to implement them. This webinar explores how DNNs are being mapped onto today's processor architectures, and how both DNN algorithms and specialized processors are evolving to enable improved efficiency. It is presented by Dr. Vivienne Sze, Associate Professor of Electrical Engineering and Computer Science at MIT (www.rle.mit.edu/eems). Sze concludes with suggestions on how to evaluate competing processor solutions in order to address your application and design requirements.

Brian Dipert
Editor-In-Chief, Embedded Vision Alliance

...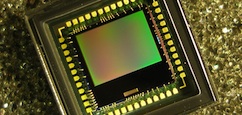 Subscribe to the Embedded Vision Insights Newsletter