Embedded Vision Insights: August 21, 2012 Edition
Register or sign in to access the Embedded Vision Academy's free technical training content.
The training materials provided by the Embedded Vision Academy are offered free of charge to everyone. All we ask in return is that you register, and tell us a little about yourself so that we can understand a bit about our audience. As detailed in our Privacy Policy, we will not share your registration information, nor contact you, except with your consent.
Registration is free and takes less than one minute. Click here to register, and get full access to the Embedded Vision Academy's unique technical training content.
If you've already registered, click here to sign in.
See a sample of this page's content below:
---
In this edition of Embedded Vision Insights:
LETTER FROM THE EDITOR
Dear Colleague,

With less than a month to go until the September 19 Embedded Vision Summit in Boston, Massachusetts, the technical program is shaping up very nicely. The Summit will feature over a dozen technical presentations focused on providing practical know-how for engineers interested in incorporating vision capabilities into their products. Presentations will cover embedded vision applications, algorithms, processors, image sensors, and tools and design techniques. Check out the event page on the Alliance website for more details, and register right away, as space is limited and seats are filling up!

Speaking of registrations, one week prior to the Summit, Design News Magazine will deliver a free five-session tutorial series called "Fundamentals of Embedded Computer Vision: Creating Machines That See", September 10-14 at 2PM ET (11AM PT) each day. The content presenters will be Jeff Bier, Embedded Vision Alliance founder, and Eric Gregori, BDTI senior software engineer. Bier and Gregori will begin with an introductory overview, followed by more in-depth details on image sensors, processors, algorithms, tools, and the OpenCV software library. See the first news item listing in this newsletter for more information, including registration links.

Also one week ahead of the Summit, on September 12 and 13 to be exact, Alliance Platinum member IMS Research will present the European edition of the Touch-Gesture-Motion Conference, in London. Vision-based gesture- and motion-related technologies will be particularly showcased on day 2 of the event....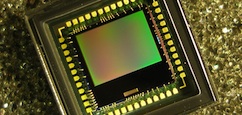 Subscribe to the Embedded Vision Insights Newsletter