Embedded Vision Insights: August 20, 2013 Edition
Register or sign in to access the Embedded Vision Academy's free technical training content.
The training materials provided by the Embedded Vision Academy are offered free of charge to everyone. All we ask in return is that you register, and tell us a little about yourself so that we can understand a bit about our audience. As detailed in our Privacy Policy, we will not share your registration information, nor contact you, except with your consent.
Registration is free and takes less than one minute. Click here to register, and get full access to the Embedded Vision Academy's unique technical training content.
If you've already registered, click here to sign in.
See a sample of this page's content below:
---
In this edition of Embedded Vision Insights:
LETTER FROM THE EDITOR
Dear Colleague,
Last time, I alerted you to the recent publication of one of the videorecorded presentations from the July Embedded Vision Alliance Member Meeting, from Argus Insights' CEO, John Feland, Ph.D. This time, I'm happy to pass along the news of the publication of the other video from that event. It's the keynote, "High Speed Vision and Its Applications -- Sensor Fusion, Dynamic Image Control, Vision Architecture, and Meta-Perception," from Professor Masatoshi Ishikawa of Tokyo University. Some of you may remember having previously heard of Professor Ishikawa's work from a news writeup, "Vision-Superior Robot Trumps Humans At Rock-Paper-Scissors, Ping Pong Balls," published on the Alliance website a year ago. His more recent presentation on the diversity of applications enabled by ultra-high speed vision processing is both highly entertaining and educational, and I commend it to your inspection.
I'd also like to pass along some additional information about the upcoming October 2 Embedded Vision Summit East, a technical educational forum for product creators interested in incorporating visual intelligence into electronic systems and software, to be held at the Regency Inn and Conference Center in Westford, Massachusetts. I've previously mentioned the ...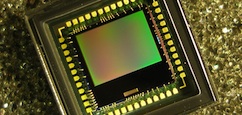 Subscribe to the Embedded Vision Insights Newsletter