Embedded Vision Insights: August 16, 2016 Edition
Register or sign in to access the Embedded Vision Academy's free technical training content.
The training materials provided by the Embedded Vision Academy are offered free of charge to everyone. All we ask in return is that you register, and tell us a little about yourself so that we can understand a bit about our audience. As detailed in our Privacy Policy, we will not share your registration information, nor contact you, except with your consent.
Registration is free and takes less than one minute. Click here to register, and get full access to the Embedded Vision Academy's unique technical training content.
If you've already registered, click here to sign in.
See a sample of this page's content below:
---
FEATURED VIDEOS
"3D from 2D: Theory, Implementation, and Applications of Structure from Motion," a Presentation from videantis


Structure from motion uses a unique combination of algorithms that extract depth information using a single 2D moving camera. Using a calibrated camera, feature detection, and feature tracking, the algorithms calculate an accurate camera pose and a 3D point cloud representing the surrounding scene. This 3D scene information can be used in many ways, such as for automated car parking, augmented reality, and positioning. Marco Jacobs, Vice President of Marketing at videantis, introduces the theory behind structure from motion, provides some representative applications that use it, and explores an efficient implementation for embedded applications.
"Leveraging Computer Vision and Machine Learning to Power the Visual Commerce Revolution," a Presentation from Sight Commerce


Satya Mallick, Co-Founder of Sight Commerce, explains how his company is using vision to enable retailers like Bloomingdale's to create more engaging, personalized shopping experiences.
...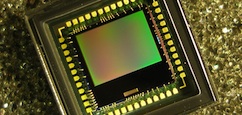 Subscribe to the Embedded Vision Insights Newsletter