Embedded Vision Insights: August 6, 2013 Edition
Register or sign in to access the Embedded Vision Academy's free technical training content.
The training materials provided by the Embedded Vision Academy are offered free of charge to everyone. All we ask in return is that you register, and tell us a little about yourself so that we can understand a bit about our audience. As detailed in our Privacy Policy, we will not share your registration information, nor contact you, except with your consent.
Registration is free and takes less than one minute. Click here to register, and get full access to the Embedded Vision Academy's unique technical training content.
If you've already registered, click here to sign in.
See a sample of this page's content below:
---
In this edition of Embedded Vision Insights:
LETTER FROM THE EDITOR
Dear Colleague,
In the last issue of this newsletter, I mentioned that we were in the process of editing some of the content captured during the July 17 Embedded Vision Alliance Member Meeting. One of the videos is now published; it's the market trends presentation "Who Watches The Watchers? Consumer Perceptions of Embedded Vision Features in Consumer Electronics," delivered by Argus Insights' CEO, John Feland, Ph.D. I think you'll find Feland's talk not only highly entertaining but also very informative; Argus Insights employs novel data collection and market analysis methods derived from postings made by consumers on various social media platforms. Specifically, Feland discussed in his July 17 talk how consumers are responding to the increasing ubiquity of image sensors in every aspect of their lives, specifically to the benefits and perceived risks of unintended surveillance via these new solutions.
In the last issue, I also shared with you the biographical information of Mario Munich, Vice President of Advanced Development at iRobot and the scheduled keynote presenter for the upcoming October 2 Embedded Vision Summit East, a technical educational forum for product creators interested in incorporating visual intelligence into electronic systems and software. Until recently, I'd only been able to indicate that the Embedded Vision Summit East would be located in the "Boston Massachusetts area". However, I can be more precise: both it and the next-day embedded vision workshops delivered by Alliance member companies will take place at the ...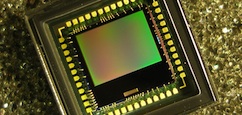 Subscribe to the Embedded Vision Insights Newsletter