Embedded Vision Insights: August 2, 2016 Edition
Register or sign in to access the Embedded Vision Academy's free technical training content.
The training materials provided by the Embedded Vision Academy are offered free of charge to everyone. All we ask in return is that you register, and tell us a little about yourself so that we can understand a bit about our audience. As detailed in our Privacy Policy, we will not share your registration information, nor contact you, except with your consent.
Registration is free and takes less than one minute. Click here to register, and get full access to the Embedded Vision Academy's unique technical training content.
If you've already registered, click here to sign in.
See a sample of this page's content below:
---
FEATURED VIDEOS
Combining Flexibility and Low-Power in Embedded Vision Subsystems: An Application to Pedestrian Detection


Bruno Lavigueur, Embedded Vision Subsystem Project Leader at Synopsys, presents a case study of a pedestrian detection application. Starting from a high-level functional description in OpenCV, he decomposes and maps the application onto a heterogeneous platform consisting of a high-performance control processor and ASIPS (application-specific instruction-set processors). This application makes use of the HOG (Histogram of Oriented Gradients) algorithm. Lavigueur reviews the computation requirements of the different algorithm kernels, and presents possible mapping options onto the control processor and ASIPs. He also presents an OpenCV-to-ASIP software refinement methodology and supporting tools. He presents detailed results of the final configuration, consisting of one control processor and four ASIPs, including cost and power figures. Finally, he summarizes the results on an FPGA-based rapid prototyping platform.
Real-Time Traffic Sign Recognition on Mobile Processors


There is a growing need for fast and power-efficient computer vision on embedded devices. This session from NVIDIA's GTC (GPU Technology Conference) focuses on computer...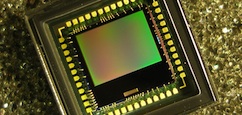 Subscribe to the Embedded Vision Insights Newsletter