Embedded Vision Insights: April 17, 2012 Edition
Register or sign in to access the Embedded Vision Academy's free technical training content.
The training materials provided by the Embedded Vision Academy are offered free of charge to everyone. All we ask in return is that you register, and tell us a little about yourself so that we can understand a bit about our audience. As detailed in our Privacy Policy, we will not share your registration information, nor contact you, except with your consent.
Registration is free and takes less than one minute. Click here to register, and get full access to the Embedded Vision Academy's unique technical training content.
If you've already registered, click here to sign in.
See a sample of this page's content below:
---
Dear Colleague,
I'm admittedly feeling pretty good right now. That's because I've just reviewed the attendee feedback from the late-March Embedded Vision Alliance Summit, and the strong ratings and positive supporting comments combine to confirm my gut feel that it was an extremely valuable event for Alliance members and press-and-analyst attendees alike. To the latter point, in the previous (April 3) newsletter I linked to Summit coverage from Rick Merritt at EE Times and Dean Takahashi at VentureBeat. Since then, Takahashi has published a second writeup on the event ("Military Wants Better Machine Vision for Smarter Robot Cameras") and has been joined by Kevin Morris of Electronic Engineering Journal ("Envisioning the Future: Embedded Vision Lunges Forward"). Based on conversations with other analysts and technology journalists, I anticipate more coverage to come; keep an eye out on the Embedded Vision Alliance's Facebook and LinkedIn pages and Twitter feed for alerts when the material is published.
Putting together a Summit is a lot of work, and I'm admittedly tempted after each one to temporarily throttle back and coast for a bit. But if anything, the pace has accelerated in the past few weeks. In the last newsletter, I mentioned that Analog Devices had chosen the Summit as a forum both for introducing a series of embedded-vision-tailored Blackfin SoCs and to upgrade its Alliance membership to the premier Platinum tier. The day before the Summit I spoke with Colin Duggan, ADI's director of marketing, about these and other embedded vision topics, and you'll find a link to the video of our interview below. Newly published to the site, too, is a video demonstration by Navanee Sundaramoorthy, Xilinx product manager, of the compelling capabilities of the Zynq-7000 Extensible Processing Platform (containing both a dual-core ARM Cortex-A9 CPU and FPGA fabric) as an embedded vision processor.
...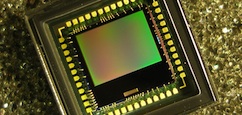 Subscribe to the Embedded Vision Insights Newsletter