Computer Vision Metrics: Chapter Five (Part B)
Register or sign in to access the Embedded Vision Academy's free technical training content.
The training materials provided by the Embedded Vision Academy are offered free of charge to everyone. All we ask in return is that you register, and tell us a little about yourself so that we can understand a bit about our audience. As detailed in our Privacy Policy, we will not share your registration information, nor contact you, except with your consent.
Registration is free and takes less than one minute. Click here to register, and get full access to the Embedded Vision Academy's unique technical training content.
If you've already registered, click here to sign in.
See a sample of this page's content below:
---
For Part A of Chapter Five, please click here.
Bibliography references are set off with brackets, i.e. "[XXX]". For the corresponding bibliography entries, please click here.
---
General Vision Metrics Taxonomy
To understand feature metrics, we develop a Vision Metrics Taxonomy composed of summary criteria. Each criterion is selected with a practical, engineering perspective in mind to provide information for evaluation and implementation in specific terms, such as algorithm, spectra, memory size, and other attributes. The basic categories of the Vision Metrics Taxonomy are shown in Table 5-1, and also summarized here as a list, and each list item is discussed in separate sections in this chapter:
Feature Descriptor Family
Spectra Dimension
Spectra Value
Interest Point
Storage Format
Data Types
Descriptor Memory
Feature Shape
Feature Pattern
Feature Density
Feature Search Method
Pattern Pair Sampling
Pattern Region Size
Distance Function
Run-Time Compute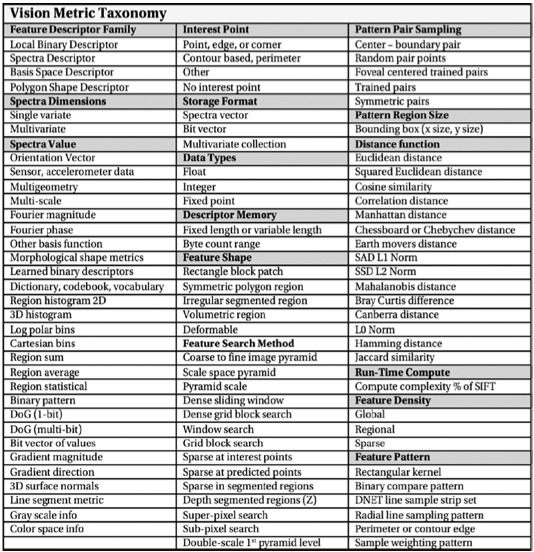 Table 5-1. Vision Metrics Taxonomy
Many of the background concepts used in the taxonomy are discussed in Chapter 4, where attributes about the internal structure and goals of common features are analyzed. In addition, this taxonomy is illustrated in the Feature Metric Evaluation (FME) information tables later in this chapter. A small subset of the taxonomy is used in the Chapter 6 survey of feature descriptors to record summary information. The taxonomy in Table 5-1 is a guideline for collecting and summarizing information. No judgment on goodness or performance is recorded or implied.
Feature Descriptor Family
As described at the beginning of this chapter, feature descriptors are classified in this taxonomy as follows:
Local Binary Descriptors
Spectra Descriptors
Basis Space Descriptors
Polygon Shape Descriptors
Spectra Dimensions
The spectra or values recorded in the feature descriptor vary, and may include one or more types of information or spectra. We divide the categories as follows:
Single variate: stores a single value such as...