"The Perspective Transform in Embedded Vision," a Presentation from Cadence
Register or sign in to access the Embedded Vision Academy's free technical training content.
The training materials provided by the Embedded Vision Academy are offered free of charge to everyone. All we ask in return is that you register, and tell us a little about yourself so that we can understand a bit about our audience. As detailed in our Privacy Policy, we will not share your registration information, nor contact you, except with your consent.
Registration is free and takes less than one minute. Click here to register, and get full access to the Embedded Vision Academy's unique technical training content.
If you've already registered, click here to sign in.
See a sample of this page's content below:
---
Shrinivas Gadkari, Design Engineering Director, and Aditya Joshi, Lead Design Engineer, both of Cadence, present the "Perspective Transform in Embedded Vision" tutorial at the May 2018 Embedded Vision Summit.
This presentation focuses on the perspective transform and its role in many state-of-the-art embedded vision applications like video stabilization, high dynamic range (HDR) imaging and super resolution imaging. The perspective transform accurately recomputes an image as seen from a different camera position (perspective). Following an introduction to this transform, Gadkari and Joshi explain its applicability in applications which involve joint processing of multiple frames taken from slightly different camera positions.
They then discuss considerations for efficient implementation of this transform on an embedded processor. Gadkari and Joshi highlight the computational challenge posed by the division operation involved in a canonical implementation of the perspective transform. Finally, they describe a division-free modification of the perspective transform which achieves a 3X reduction in processing cycles for typical use cases.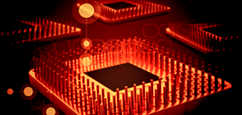 Subscribe to the Embedded Vision Insights Newsletter
For More Information