Overview
BDTI leverages 25 years of experience in designing and implementing compute-intensive applications to help help companies create and use computer vision and deep learning technology. BDTI has particular expertise in:
Processor selection
Algorithm design
Software implementation and optimization
To see examples of BDTI services for computer vision, click on Services to the right.
BDTI is a technical analysis and engineering company, founded in 1991 to help companies take advantage of embedded processing technology. For 25 years, BDTI has enabled its customers to develop and use embedded processing, helping them reduce risk, build better products, and speed time to market and revenue.
For a confidential discussion of your needs, call BDTI +1 (925) 954-1411 or click on Contact BDTI to the right to contact us via the web.
Presentations and Articles from BDTI on Computer Vision
Here are BDTI's latest presentations and articles on computer vision. For a complete list, click on Embedded Vision Resources to the right.
| | | |
| --- | --- | --- |
| | Jeff Bier of BDTI delivers a technical presentation at the May 2014 Embedded Vision Summit. | |
| | Eric Gregori, Senior Software Engineer at BDTI, delivers a technical presentation at the September 2013 Qualcomm UPLINQ Conference. | |
| | Eric Gregori, senior software engineer at BDTI, delivers a technical presentation at the April 2013 Embedded Vision Summit. | |
| | You now can hold in the palm of your hand computing power that required a desktop PC form factor just a decade ago. | |
| | The Alliance's Brian Dipert and BDTI's Eric Gregori deliver the technology trends presentation at the December 2012 Alliance Member Meeting. | |
| | Eric Gregori, senior software engineer at BDTI, delivers a technical presentation at the September 2012 Embedded Vision Summit. | |
| | The transition from elementary image capture to image analysis, interpretation and response requires more capable image sensor subsystems. | |
| | BDTI Senior Engineer Shehrzad Qureshi delivers the technology trends presentation at the July 2012 Embedded Vision Alliance Member Meeting. | |
| | With the emergence of capable processors and image sensors, it's practical to incorporate computer vision into a range of embedded systems. | |
| | "Embedded vision" refers to the use of computer vision technology in embedded systems, i.e. systems that extract meaning from visual inputs. | |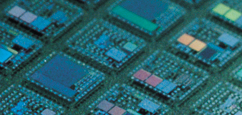 Subscribe to the Embedded Vision Insights Newsletter