Analog Devices Products
Processors for Embedded Vision
Blackfin Processors are a new breed of 16-32-bit embedded processor designed specifically to meet the computational demands and power constraints of today's embedded audio, video and communications applications. Blackfin Processors combine a 32-bit RISC-like instruction set and dual 16-bit multiply accumulate (MAC) signal processing functionality with the ease-of-use attributes found in general-purpose microcontrollers. This combination of processing attributes enables Blackfin Processors to perform equally well in both signal processing and control processing applications-in many cases deleting the requirement for separate heterogeneous processors. This capability greatly simplifies both the hardware and software design implementation tasks.
The Blackfin Processor family also offers industry leading power consumption performance down to 0.8V. This combination of high performance and low power is essential in meeting the needs of today's and future signal processing applications including broadband wireless, audio/video capable Internet appliances, and mobile communications.
All Blackfin Processors offer fundamental benefits to the system designer which include:
High-performance signal processing and efficient control processing capability enabling a variety of new markets and applications.
Dynamic Power Management (DPM) enabling the system designer to specifically tailor the device power consumption profile to the end system requirements.
Easy to use mixed 16-/32-bit Instruction Set Architecture and development tool suite ensuring that product development time is minimized.
For more information, please visit: www.analog.com/blackfin
Introducing Blackfin Processors with Accelerated Image Processing
The ADSP-BF608 and ADSP-BF609 Blackfin processors are optimized for embedded vision and video analytic applications using a unique pipelined vision processor (PVP). The PVP is a set of functional blocks within the ADSP-BF60x core designed to accelerate image processing algorithms and reduce overall bandwidth requirements. Other features include a high performance enhanced infrastructure, large on-chip memory and a feature rich peripheral set with expanded connectivity options. The new ADSP-BF608/609 processors are ideal for many embedded vision applications such as automotive advanced driver assistance systems (ADAS), machine vision and robotics for industrial manufacturing systems, security and surveillance system analytics and bar code scanners.
For more information, please visit: www.analog.com/en/bf60xseries/topic.html
Software for Embedded Vision
Blackfin Image Processing Toolbox is a set of image processing primitives designed to enable faster development of complex image or video processing solutions on Blackfin. It has been highly optimized to be run on Analog Devices' Blackfin processor family. It is a self-contained software module. The library is MISRA-C compliant.
For more information, please visit: www.analog.com/en/processors-dsp/blackfin/BF_IPTBX_00/processors/product.html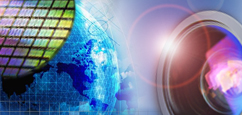 Subscribe to the Embedded Vision Insights Newsletter