About Analog Devices
Analog Devices, Inc. defines innovation and excellence in signal processing. ADI's analog, mixed-signal, and digital signal processing (DSP) integrated circuits (IC) play a fundamental role in converting, conditioning, and processing real-world phenomena such as light, sound, temperature, motion, and pressure into electrical signals to be used in a wide array of electronic equipment. As the digital revolution continues, moving to higher speeds and multimedia and changing the way we communicate, play, work, and travel, the technology created by ADI is ever more in demand. Increasingly, ADI is the company behind the most sought after features in virtually every type of electronic equipment. In today's automobiles, digital still cameras, LCD and plasma televisions, cellular handsets, medical imaging devices, and factory automation equipment, ADI's ICs enable continuous connections, more vibrant pictures, clearer sound, and increased portability. ADI's core analog and DSP technology is quite literally everywhere.
For more information, please visit www.analog.com.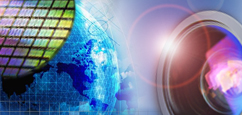 Subscribe to the Embedded Vision Insights Newsletter