November 10, 2017
Propose Your Presentation for the Embedded Vision Summit 2018! Limited Space Available
Submitted by Brian Dipert on Fri, 2017-11-10 02:01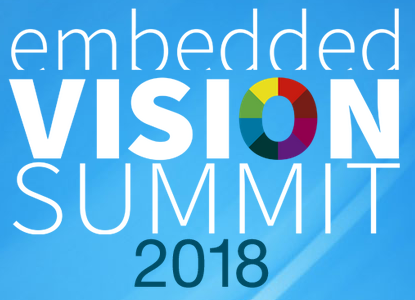 The Embedded Vision Summit is the preeminent conference on practical computer vision, covering applications from the edge to the cloud. It attracts a unique audience of over one thousand product creators, entrepreneurs and business decision-makers who are creating and using computer vision technology. The Embedded Vision Summit has experienced exciting growth over the last few years, with 98% of 2017 Summit attendees reporting that they'd recommend the event to a colleague. The next Summit will take place May 22-24, 2018 in Santa Clara, California.
The Summit program will incorporate four presentation trackss
Technical Insights. Presentations should focus on practical technical education.
Enabling Technologies. Presentation opportunities provide a way for Embedded Vision Alliance Member companies to highlight their products.
Business Insights. Presentations should focus on providing insights useful to business decision makers, including market and technology trends, business models, and case studies illustrating how vision technology is delivering value to consumers, businesses and other organizations.
Fundamentals. Presentations should provide introductory technical tutorials on topics of broad interest to developers incorporating computer vision into products and systems. These presentations will deliver practical computer vision know-how that participants can put to work right away.
New for 2018! This year we are introducing a special focus area on cloud-based vision processing. We are particularly interested in talks covering applications and architectures that have both embedded (edge) and cloud components, as well as those based solely at the edge or in the cloud.
The deadline to submit presentation proposals is November 10, 2017. For detailed proposal requirements and to submit proposals, please visit: https://www.embedded-vision.com/summit/2018/call-proposals
For questions or more information, please email us at present@embedded-vision.com.
Subscribe to the Embedded Vision Insights Newsletter