March 17, 2014
The HTC "M8": Will Fuller-Featured Depth Sensing Be Worth The Smartphone Wait?
Submitted by Brian Dipert on Mon, 2014-03-17 09:06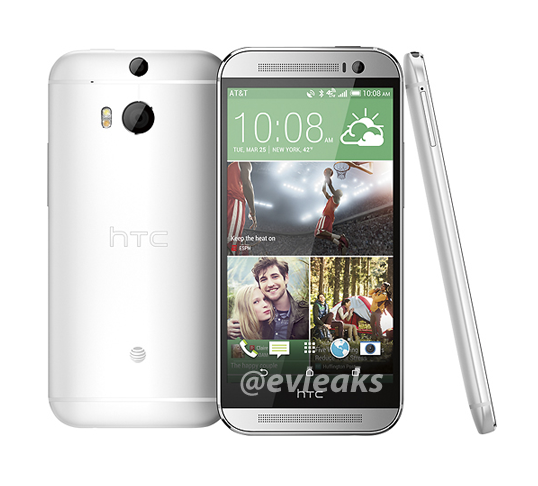 For the past several months, an ever-increasing and more detailed suite of rumours has pointed to the near-future unveiling of the successor to HTC's critically acclaimed and commercially successful HTC One smartphone. Surreptitiously snapped photos indicated that this heir apparent, code-named the "M8", would include a dual rear camera array. If true, this wouldn't be the first time that HTC went down this particular design path. As I mentioned back in December 2012, HTC released the Evo 3D in the summer of 2011. However, in that precursor case, the cameras were only used for 3D video-capture purposes.
More recently published leaks on the "M8" indicate that the company has more aggressive plans for the "Duo Camera" in its "all new HTC One". A supposed brochure from Australian cellular carrier partner Telstra refers to the following capabilities:
Create vivid images even in low light and professionally edit memories after you've taken the shot. Choose where to focus, highlight what you love, soften backgrounds and add 3D effects.
It was followed by the leak of an even more detailed (and again supposed) HTC internal sales guide. In the image above, you can see the main camera to the right of a dual-LED flash structure, with the secondary camera directly above it. Still unknown are the resolutions of the two backside cameras; although the front-side camera appears to retain a conventional "mono" arrangement, its resolution will seemingly increase to 5 Mpixels, from 2.1 Mpixels on the original HTC One. All will likely be revealed at HTC's upcoming press event, on March 25th.
Computational photography is obviously a key focus (pun intended) with the "all new HTC One", such as the post-capture refocus capabilities that are reminiscent of (albeit likely more limited than) those achievable with Lytro's cameras, and echoing a feature that Nokia also offers with its single-camera smartphones. But, since the HTC One is based on Android, third-party developers are free (subject to O/S and API access limitations) to harness the stereo camera array for plenty of other embedded vision capabilities, as well.
How do you plan to tap into the "all new HTC One's" potential? And do you think that its rear camera arrangement is unique, or will it be propagated to other HTC handsets as well as those from other manufacturers (also including tablets and other mobile electronics device form factors) in the future? Sound off with your thoughts in the comments.
Subscribe to the Embedded Vision Insights Newsletter