March 05, 2012
Nokia's 808 PureView: A Technical Article and Several Videos For You
Submitted by Brian Dipert on Mon, 2012-03-05 22:31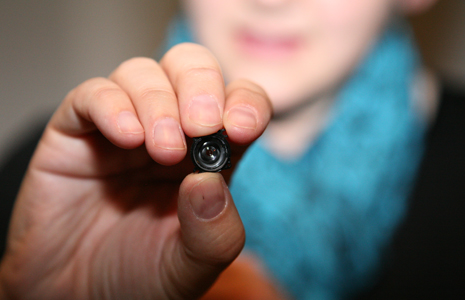 Nokia has published several interviews, both in "print" and in video form, since the company launched the model 808 PureView cameraphone (which I discussed in my prior news post earlier today) last week at Mobile World Congress (where it won Best in Show). While I'll reassure you that I'll be writing about plenty of other embedded vision topics in the future, the 808's still and video imaging subsystem is so compelling (both in general and specifically as it relates to various embedded vision applications) that I feel it justifies just one more news writeup.
The article, an interview with Dr. Hubert Nasse from Nokia's optics partner Carl Zeiss (who also designed the lens assembly used in the Nokia Lumia 800, is the most interesting of the lot to me. Dr. Nasse and others interviewed at Carl Zeiss do a good job of explaining how they optimized the optics performance of lenses made of plastic (chosen because of its comparative low cost, light weight and greater durability) instead of inherently superior glass. I particularly appreciate this quote:
Fewer than 2 megapixels really affects image quality, but bigger than that is not necessarily better. Paper prints or PC-displays usually do not need a much higher resolution. "Reducing the performance of a camera down to one number does not give you a true reflection of a camera," says Oliver Schindelbeck [Research and Development Project Manager for Mobile Phones]. "It is wrong to say 8 megapixels are better than 5 megapixels. That tells you nothing about colour shading, or noise reduction – or any of the other things that really matter." Human eyesight doesn't focus just on resolution, he adds – it's much more.
And the lens construction discussion is particularly compelling given that Nokia's head of imaging technologies, Juha Alakarhu, had previously admitted to the Wall Street Journal how difficult it was to design an acceptable (size, weight, thickness, cost, quality, reliability, etc) optical zoom assembly for a high volume handheld device, therefore motivating the company to pursue the PureView digital zoom alternative.
The video below is an interview with Nokia's "chief camera expert", Damian Dinning. Note how carefully Dinning avoids revealing the identity of Nokia's sensor and companion image processor suppliers (both Sony and Toshiba have been rumored as likely candidates) while simultaneously driving home the point that the development was a joint venture project:
Next, we have a video interview with the company's director of product marketing for smart devices, the uni-named Vesa:
More videos, both of the 808 and other new handset models, can be found on Nokia's YouTube channel.
Subscribe to the Embedded Vision Insights Newsletter