The Next-Generation Microsoft Kinect: Inching Ever Closer To Perfect?
June 25, 2012

Last November, rumors began circulating in cyberspace regarding the next-generation Microsoft Kinect peripheral...that it would be, for example, accurate enough to read the lips of people sitting in front of it, along with delivering improved motion tracking and voice recognition (the latter by virtue of the camera peripheral's integrated microphone array), and being "able to tell what direction the player is facing" (but can't it already do that?). Here are some of the other coverage links that I archived back then:
It now appears that the saying "where there's smoke, there's fire" applies in this particular case, judging from a more recent additional documentation leak (which among other things, lists a $299 "Kinect 2" price), along with consequent Microsoft-contracted legal firm actions. As summarized by The Verge:
The next iteration of Microsoft's Kinect accessory appears to be an incremental improvement over the current hardware. Microsoft references higher accuracy, stereo imaging, improved voice recognition, support for four-player tracking, an improved RGB camera, and dedicated hardware processing.
Microsoft also seems to be planning to produce augmented reality glasses, developed under the "Fortaleza" project code name, and analogous to those under development by Google:
There's little mention of the hardware involved, but the glasses appear to be Wi-Fi- or 4G-enabled and incorporate augmented reality in a way that's similar to Google's Project Glass augmented reality glasses. Described as a "breakthrough heads up and hands-free device," Kinect Glasses is marked as a 2014 product that won't launch alongside the Xbox 720 console. Microsoft doesn't provide any specifics about how the glasses will work on the Xbox, but they do appear to be designed to be mobile for use away from the console.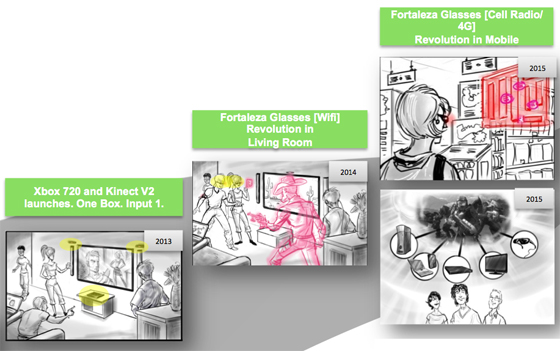 More generally, the 2013-production $299 "Kinect 720" is reputed to be a hardware "monster", with additional CPU cores that may at least partially explain why Microsoft took an ARM architecture license in mid-2010:
Microsoft outlines a competitive differentiation for its next-generation Xbox, including support for Blu-ray, native 3D output and glasses, concurrent apps, and additional sensor and peripheral support. Alongside a promised 6x performance increase, there's also mention of true 1080p output with full 3D support and an "always on" state for the console. A slide on core hardware indicates that the next Xbox will be designed to be scalable in the number of CPU cores and their frequencies. Microsoft appears to have been debating whether to use six or eight ARM or x86 cores clocked at 2GHz each with 4GB of DDR4 memory alongside three PPC cores clocked at 3.2GHz each for backwards compatibility with existing Xbox 360 titles.
A Microsoft-contracted law firm has subsequently issued takedown notices to a number of sites that were hosting the document, including Dropbox. For more coverage, hit up the following links: