Face Detection For Obscenity Prevention
June 14, 2012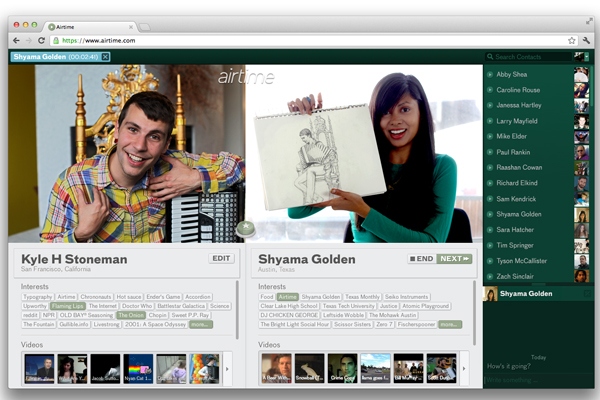 Another day, another facial recognition-fueled controversy...although strictly speaking, this one involves less-complex face detection, not age, race, gender or specific-identity recognition...at least not yet, that is.
The more "wired" among you may recall a short-lived (but technically still alive) Internet craze called Chatroulette. Via the aptly-named website, you were randomly connected with someone else on the Internet, also logged onto Chatroulette and equipped (as were you) with a webcam-inclusive computer. If the other person seemed interesting in some way, you could..."chat". If not, you would click "next" and be subsequently connected to some other random soul in cyberspace with way too much on his or her hands...and so on, and so on.
To be clear, I've never actually used Chatroulette. But abundant media coverage informed me of two (unsurprising, unfortunately) aspects of the "service":
It quickly became male-dominated, and
Instead of displaying faces, it frequently instead showcased...a different area of the (usually male) anatomy.
Sigh.
Last week, Sean Parker (yep, the Napster and Facebook guy...along with fellow Napster-ite Shawn Fanning) introduced a new service called Airtime, supposedly powered by more than $40 million in investor seed money. Like Chatroulette, Airtime is designed to video-connect strangers in cyberspace with way too much time on their hands. But clearly, Parker and his Airtime cohorts have learned important lessons from the Chatroulette past, because:
Airtime is an extension of Facebook; you access the service via your Facebook account and are therefore explicitly identifiable
Airtime connections aren't completely random; your Facebook profile information is used to match you up with others that Airtime's computer algorithm thinks you'll find interesting, and
Speaking of Airtime's computer algorithms, they also find use in monitoring the video feeds to ensure that...you guessed it...faces are in the frames, versus other body parts. Unless, apparently, the two Airtimers are already Facebook Friends, in which case anything goes (NSFW title and content).
I'm not going to link to any of the other Airtime coverage I came across, because it invariably compares the service to Chatroulette, consequently mentions the most commonly displayed non-facial body part, and is therefore also NSFW. However, if you're curious, this Google News link will be a useful starting point. Just don't say I didn't warn you.
Sigh.